Erin Kidwell
Springhurst Animal Hospital, Louisville, Kentucky
Since 2019, Erin Kidwell has worked as a veterinary technician at Springhurst Veterinary Hospital in Louisville, Kentucky. It's a busy practice with 20 to 25 patients a day—handling everything from routine wellness exams (including vaccinations) to pet dentistry and emergency procedures, such as surgery. 
"We see everything here," Kidwell says. "Mostly cats and dogs, but also exotic pets: birds, rabbits, ferrets, guinea pigs, lizards, and snakes." (One recent patient was a remarkably well-behaved python.) "My favorite thing about the job is seeing all the animals, of course, but I also really enjoy educating clients about conditions that their animals might have, or about preventative medicine."
The main thing she wishes that people knew about vet techs? 
"We don't just sit around and play with cats and dogs all day," she says. "We're really hard working and comparable to nurses. I feel like when people think of vet techs, they assume we don't do much. They think we just sit there holding animals all day long, but we actually do a whole lot more than that."
To celebrate Vet Tech Week, we asked Erin to share what a vet tech packs into a typical day. (It's a lot.)
7:30 a.m.
I get to the office early. I'm not a morning girl, but I make it work. When I arrive, my very first tasks include setting things up, getting everything ready for the day, and making sure that everything is well stocked, and that our surgery areas are sterile and prepped.
Then I take a look at our schedule. It's broken down between surgeries for the day, and just our normal appointment schedule. I always prioritize the surgeries first, making sure everything is ready to go once the patient gets here. Then I wait until my surgery patients are dropped off—anywhere between 8 a.m. and 8:30 a.m.
8:15 a.m.
After my surgery patients get dropped off for the day, I speak to the client, go over everything that we're going to do as far as the surgery, and answer any questions they might have.
Then once I have the patient, that's when we start all our pre-op diagnostics. I'll run pre-op bloodwork, do preoperative ECGs, where we listen to their heart, and make sure everything's good prior to surgery.
And then I do my drug calculations for surgery, so we'll have the right drug protocol. That way when it's time for surgery, we're able to anesthetize the patient, intubate them, and everything's ready to go.
We also typically have, I would say, anywhere from one to two euthanasia procedures a day.  I try to stay strong for the client, but usually I cry with them. I cry right alongside them, and just kind of let them know that I'm there for them. It definitely takes a toll on me, especially if it's a patient I've worked with for a while, or have had some sort of connection with.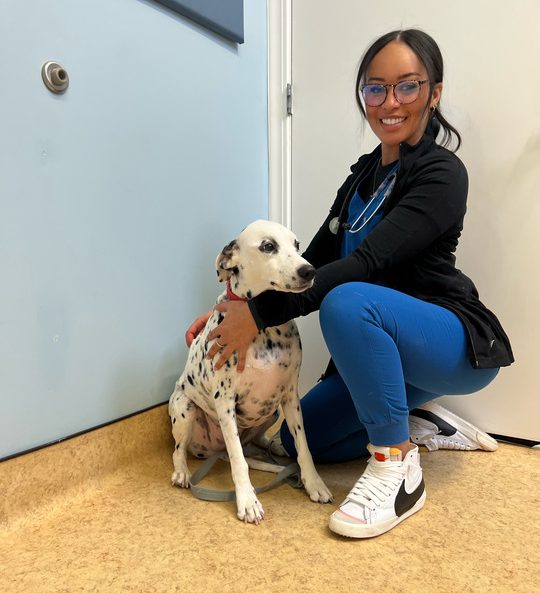 9 a.m.
It's time for our appointments for routine care to begin. We're actually a "fear-free practice," which means that we always want our patients to have the best possible visit with us. So we do that by offering numerous treats. And if a dog comes in for a nail trim, and they are just freaking out, we won't do it. We listen to the dog. We'll hold off on that nail trim, talk to the client, and maybe prescribe some pre-visit medications to kind of calm them down for next time. We just try to make the vet experience not a super scary thing. 
10 a.m.
Another thing about us is that we always make something work for someone who comes in, especially the doctor that I work with. He's willing to fit anything into our schedule—no matter what the schedule may look like that day. An emergency case could come in at any time. We'll figure it out. The other day, we had a dog come in who got hit by a car, and obviously that got added to the schedule right away. In my job, you have to be able to move quickly, think on your feet, and kind of just adapt and be wherever you're needed. 
11 a.m.
Another routine visit for annual vaccines. The receptionist brings the client and patient into the room, and I come in and introduce myself. I always try to be friendly and put people and their pets at ease. I run through everything that we plan to do, and ask if they have any questions. While I'm in the room, I go ahead and check vitals and everything. The vitals include heart rate, respiration, things like that, so when it's time for the doctor to come in, we save them as much time as possible. Then, after the visit ends, another responsibility I have is getting people checked out.
Noon
Depending on what kind of surgeries we have for the day, we block off time from 12 p.m. to about 3 p.m. for these procedures. (Emergencies will be slotted in early in the day, of course.) 
My first job is to sedate the patient, prior to placing their IV catheter. I'm in charge of placing IVs, and once that's done, I take the patient back to our surgery suite. Then I'll anesthetize them, meaning actually get them under anesthesia, and then I'll intubate them, meaning I put their breathing tube down their throat. Then I hook them up to our anesthesia machine, so they're completely out, and I help the doctor with whatever is needed. I might help them scrub up, and then  depending on the type of surgery, I'm in charge of monitoring the patient: keeping track of heart rate, respiration, things like that. We usually do our procedures with a surgical laser, so that requires help too. The most common non-emergency surgeries we do, besides spays and neuters, are tumor removals.
From being right beside the doctor every day, I've learned a lot from the surgical procedures. At this point, I'm pretty sure I could do one myself if I had to!
2 p.m.
Post-surgery, I'm in charge of recovering the patient: extubating them, giving pain injections. We also do a post-op laser on all of our surgery patients to help promote healing. So I'm in charge of waking the patient up, making sure they're comfortable, calling the patient's parents, and talking through discharge instructions after surgery, and then cleaning up and sterilizing the room after surgery. 
2:30 p.m.
Sometimes I don't have time to get lunch, and when I do, the breaks are only 30 minutes long. Depending on how many surgeries we have, once I'm finished with my last one, that's usually when I get to take my 30-minute lunch. And then I have to be back by 3 to start routine appointments again, which go until around 6. It's pretty intense.
Apart from all the regular appointments, there's also a whole separate tech appointment schedule—nail trims, laser treatments, anal gland expressions, and those other kinds of appointments that don't really require a doctor. So I have to tackle those while also attending to my doctor schedule. 
3 p.m.
Usually the doctor will give me a stack of charts, typically from the previous day, and I'll give those people a call with diagnostic results, or just check in and hear how a patient is doing. I make these calls whenever I have a chance during the day—if I finish a routine appointment early, I'll try to sneak in some client calls then. 
As a staff, we're always there to support each other, whether it's after a euthanasia appointment, or just a stressful appointment or a difficult phone call. If a client is anxious or even a little disrespectful, I always try to stay calm, remain professional, and address any questions or concerns that they might have. And if I can't, I'll usually just go get my manager. 
6 p.m.
By this time, we're starting to shut down the hospital, prepping everything for the following day. After the last patient has left, the instruments have been cleaned and sterilized, so that means I need to wrap them up in their surgery packs. I shut down exam rooms, and I help sweep and mop. I prep for next day appointments. So I'll get the patient history and everything else ready to go. If I have enough extra time, I'll go ahead and help prep surgery for the following day. That's about it. We just kind of shut everything down.
6:30 p.m.
I work five days a week, including weekends, and each shift is almost a 12-hour day. I'm pretty exhausted at the end of the day, but I wear comfortable shoes and compression socks, which help keep me on my feet. When I'm at work, I'm focused on work—but when I'm not at work, I try not to dwell on anything and keep my personal life separate.
If you're a veterinary professional, learn more about The Farmers Dog in our vet pro portal.