The World Series starts on October 28. But while the matchup between the champions of the American and National Leagues will determine who gets to hoist the Commissioner's Trophy in 2022, it will be missing one of the year's breakout baseball stars: Pepper, a 6-year-old Australian cattle dog and accomplished slap hitter.
Pepper, who lives on Plum Island in Massachusetts, first attracted public notice in May. That's when Instagram user Melissa Lawrence posted a video of Pepper holding a Wiffle bat in her mouth and using it to strike a pitched ball.
View this post on Instagram
How did Pepper master this skill?
"I hit [the ball] a few times," says Dave, Pepper's human. "She saw me hit it." As simple as that sounds, dogs can learn new skills by watching others perform them. It's part of what some call model-rival training. Here's another fun video of model-rival training in action.
Pepper—who coincidentally shares her name with a popular batting and fielding exercise—was a quick study. "It took about a day 'til she figured it out," Dave says. "Took about a few months 'til she was really hitting the ball like you see her now."
Dave knows that his coaching method might not lead a typical dog to success at the plate. "She's pretty much good at everything I teach her," Dave says of Pepper. "She's a bizarre dog."  Her other tricks include playing dead, rolling over, and letting out a quiet "indoor bark." But none has captured as much attention as her knack for the national pastime.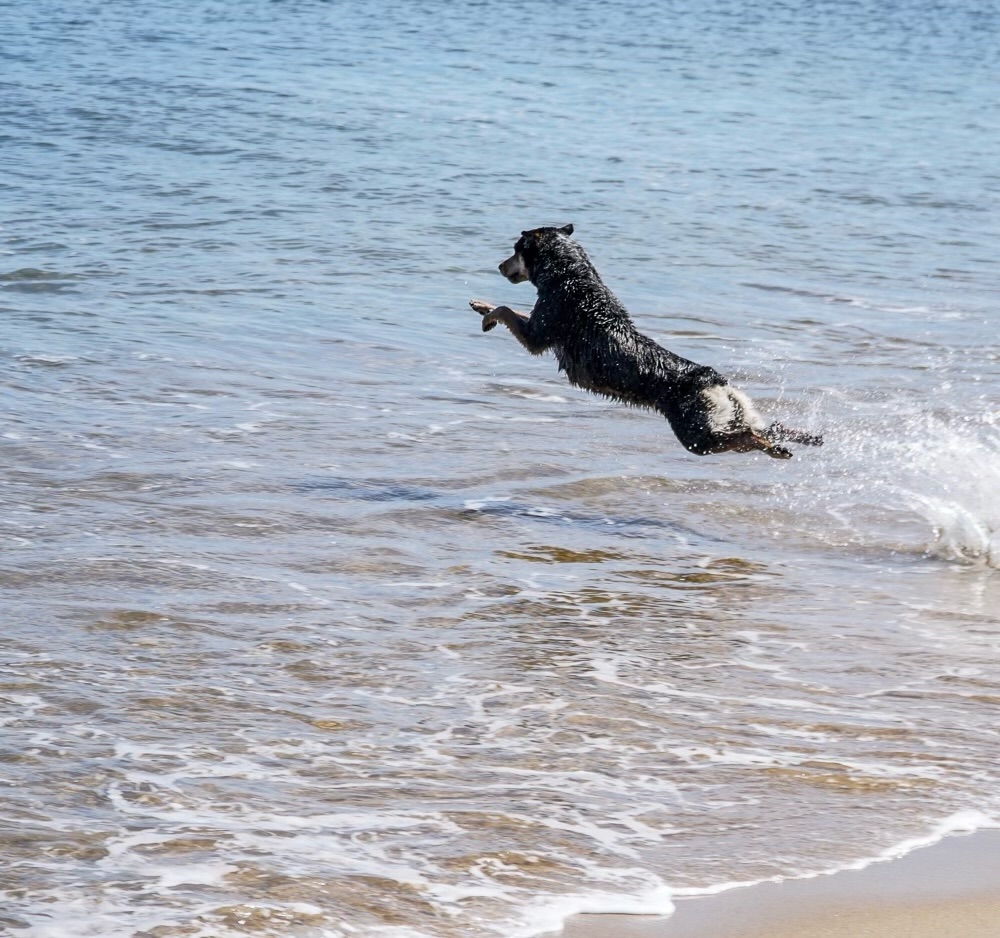 Dr. Alex Schechter, DVM—who characterizes Pepper's baseball prowess as "awesome"—says that, if you're considering this type of trick for your dog, you should be sure to use a light bat and ball, and avoid it altogether "if your pup has any dental issues." Any time your dog's mouth is involved in exercise or a trick, you'll want to use caution. For example: While catching flying discs is a fun, popular activity for dogs, many vets would advise you to use one specifically designed for pups—one that's soft and flexible, preventing damage to both your dog's teeth and the disc itself.
Whatever you teach your dog, experts will tell you that it's a very good idea to spend time teaching them something. Mental exercise is just as important to dogs as the physical kind, and can lead to a happier dog. Dogs are intelligent animals who often enjoy working and solving problems—as long as it's their choice—and can become bored and destructive if they don't get enough stimulation. 
In addition to Pepper's intelligence, Dave attributes her success at batting and other novel tasks to a desire to please him. "She does everything to make me happy," he says, confirming that his praise means enough to Pepper to drive these astounding achievements. And they are close. "She never leaves my side, 24 hours a day," he says. Pepper rides with Dave on a platform he custom built on his motorcycle. They go to the pub and the beach together.  And she hangs out all day at the machine shop where he works. Such a bond can yield training dividends no matter what your goals, and is a key to success in some canine athletic endeavors.
View this post on Instagram
Mark Magdeleno is the manager and hitting coach for the Portland Pickles, a collegiate wood-bat team in Portland, Oregon. Reviewing footage of Pepper in action, he had positive feedback for her approach in the box. "Pepper hits from the ground up," he said. "She's on time with her coil… She's short to the ball and stays in the hitting zone for a long time. She's creating backspin and has a great middle-of-the-field approach." If Pepper ever wants to try her hand at organized baseball, we know who she should call.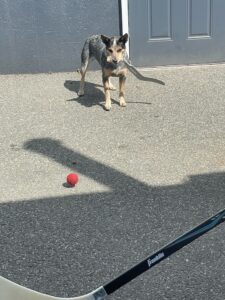 Even as you read this, Pepper is learning more sports. She can already sink baskets in the style of the original Air Bud, and has recently taken to pickleball; she and Dave are a doubles team. With Bruins season just getting under way, Dave has fashioned custom hockey sticks for his dog.
And what's Pepper's ceiling in her first sport, baseball?
No one knows the future, but we can tell you this much: In the closing scene of Air Bud: Seventh Inning Fetch, Buddy wins Most Valuable Player of the World Series as the first baseman for the then-Anaheim Angels.