For as long as we've been human, we've enjoyed the companionship, protection, and service of dogs. In fact, scientists say that it's unlikely humans would be where we are today, (for better or worse,) without the dogs who befriended us from the very start, helping us hunt, gather, and thrive. 
With this new series of stories, we're paying tribute to the important and varied role dogs play in the lives of today's humans. And what could be more on the nose than starting with a farmer's dog? 
Dogs were by our sides when humanity made one of its biggest lifestyle leaps, from foraging to farming. In 37 BC, the Roman scholar Marcus Terentius Varro wrote, "Dogs should be kept as a matter of course, for no farm is safe without them." Few have disagreed since.
Farmer's dogs embody the unique, cooperative relationship we're lucky to have with this species (and while we only just met Kimchi here, it was indeed the wholesome, hardworking, rewarding lives of these dogs that collectively inspired our name).
In looking at the lives of these dogs, we are also privileged to tell the stories of farmers.
Rise & Root Farm, Chester, NY
The dog: Kimchi
Provenance: The streets of South Korea
The farmers: Michaela Hayes, Karen Washington, Jane Hodge, Lorrie Clevenger

Not a heeler, but a healer
Dogs have many roles on farms, depending on what's being cultivated, where, and by whom. The imposing Maremma dogs from Tuscany protect livestock on farms around the world from fearsome predators. Eerily intelligent border collies perform their herding duties with an almost telepathic ability to read cues from their two- and four-legged charges. Compact, determined rat terriers root out profit-draining, disease-spreading vermin. 
But at Rise & Root, a cooperatively run farm in Orange County, New York, farm dog Kimchi has a more all-encompassing role: "healing," says farmer, and Rise & Root co-founder, Jane Hodge, who, along with life- and farming partner, Michaela Hayes, is Kimchi's guardian. 
If Kimchi is not the dog you imagine when you picture "farm dog," it's fitting, as Rise & Root's mission is to provide an alternative to what we've always thought farmers looked like.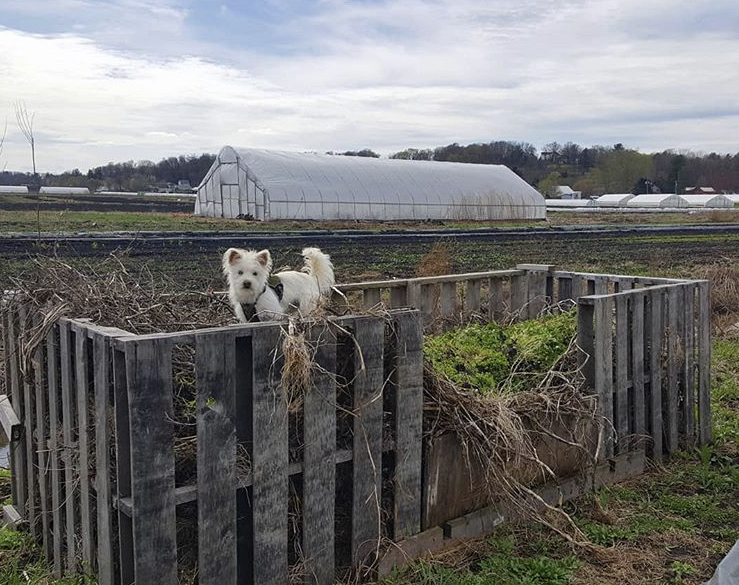 Providing food, and an example
Kimchi is the canine member of a farm family that's dedicated to growing both food and awareness about food justice, while setting an example for a new generation of potential farmers. 
Hodge, Hayes, Washington and Clevenger planted the seeds of Rise & Root in 2009. The four women, all active in the food and farming communities of New York, met at Just Food, a non-profit dedicated to sustainable agriculture and eliminating inequity in the food system. 
They envisioned a farm that would not only sustain their families and community, but provide a more inclusive example for farmers. "It was something that was important to us," says Hodge, noting the lack of diversity in farming ( the 2017 Census of Agriculture indicates that 95% of farm producers are white, 3.3% are Hispanic, 1.7% are Native American and 1.3% are Black)."Three of us are queer farmers, Karen and Lorrie are Black farmers. We wanted to make sure we weren't just growing food but we were creating a space for our communities. There are not enough queer farmers, and not enough Black farmers, and not enough female farmers. We wanted people to be able to come to the farm and see people who look like them. We wanted to be examples… we wanted to be a healing farm."
The farmers produce vegetables, flowers, and herbs using sustainable growing techniques on three acres in upstate New York. They also grow and provide seedlings for New York and their local neighborhoods, and offer support and education to others interested in farming. On community work days, they offer hands-dirty experience to city and country folk eager to learn about growing ("people come from Brooklyn and work really hard all day on the farm and at the end they thank us for it," says Hodge). 
The farm serves many functions and many people, but the goal is simple: "We want to build a sustainable, for-profit business while also supporting our communities," says Hodge. 
Chester, NY by way of South Korea
Hodge and her co-founders consider Rise & Root a healing farm, and Kimchi herself is one of the farm's notable success stories. 
Hodge says that she and Hayes lost their last dog, a Wheaten terrier, five years ago, and after that, started boarding dogs. "We had all this dog love and wanted to have dogs in our lives," Hodge says. When they started thinking about bringing a new dog into their family permanently, they put in an application at a nearby rescue that specializes in smaller dogs and that takes in homeless dogs from South Korea and China. Several months later, they got a call about an available dog. 
"Kimchi was a street dog in South Korea," says Hodge. "She was living on the streets and had clearly been chased and kicked. Apparently someone saw her being chased by the neighbors and brought her to the rescue. That's her background." The appetizing name came from a suggestion from the family's Taekwondo instructor ("we were looking for something that said 'tough,' but she suggested Kimchi. Michaela is a pickler, and a chef, so it was sort of perfect," says Hodge). 
"When she first came to us last September, she was afraid to walk through doorways. She's come such a long way."  In turn, she brings a bit of healing to those who work on, and visit the farm. 
Kimchi's role has been especially important during the pandemic, which has had a massive impact on farmers. "We are social distancing and we can't give people we love hugs that we love the same way we used to. What's been nice is that Kimchi became our remote hug."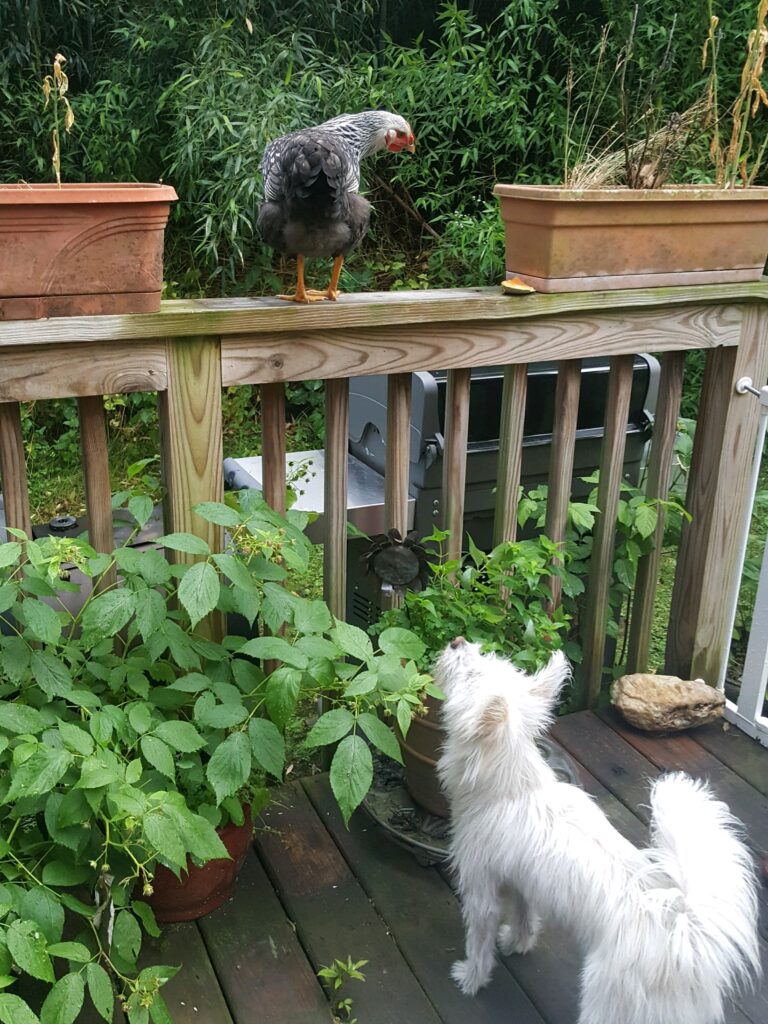 A day on the farm
Kimchi isn't up at dawn to herd sheep, but she does wrangle her farm family.  Hodge starts work on the farm at 7a.m. while Hayes takes care of their kids and their schoolwork, with an assist from Kimchi, before meeting up with the other partners at the farm. 
Kimchi keeps watch on the farm, while occasionally chasing (though not catching) grasshoppers and chipmunks. "We haven't quite trained her yet.. she doesn't' always come at the times we need her to," says Hodge. "But she's good at staying nearby." 
Kimchi is also the right kind of farm greeter. "She is lovely and welcoming but has this skeptical personality," says Hodge. "If someone is too excited to meet her at first  she backs off. Once you are in the club, which is pretty much everyone, she loves you. She is overjoyed when she sees the people she loves. She's just the best dog." 
Farming in a pandemic
The Rise & Root farmers, like so many others, have felt a massive impact from the pandemic and the attendant shutdowns.
Clevenger works with an organization called Why Hunger whose hunger hotline, which provides food to people in need, went from taking a few calls a week to thousands. 
With the restaurants that were their traditional buyers closed (they're now starting to open up again, slowly) and with more people needing food assistance, the farmers started a buying club providing groceries to locals.  
Along with the challenges, Hodge notes some signs of hope. In the wake of both the pandemic and national, and global, civil rights protests, more people have become interested in both facets of Rise & Root's mission. "One of the things going on now is that for the first time in a lot of our lifetimes, people are feeling the weight of food insecurity; they realize farmers are providing an important basic need for people. A lot of people are excited about buying locally and excited about growing their food. That feels important." 
She adds, "I'm a white woman and I'm part of this farm run by Black women and we've been getting so much support from people who want to support Black-run businesses. It's more important than ever for us in the current climate to have farmers that look like everyone. We need more Black farmers."
What the Rise & Root farmers most want people to know: "we're here and we're doing it, and we need more people like us also doing it." 
You can find Rise & Root on Instagram and Facebook and  at the Union Square greenmarket in New York. Visitors to the Rise & Root site can donate to the farm, or purchase food or seedlings that will be donated to people in need.