Yolla Montalbin walked into an animal shelter in northern California on the first day of summer in 2010 and adopted an adorable tan and black puppy that looked to be some sort of shepherd mix for his family. Before long, the firefighter was taking his new pet, Cali, to work. "To justify having a puppy at the firehouse, I started teaching her fire safety tricks," says Montalbin, who is stationed at Humboldt Bay Fire, serving Eureka, CA and the surrounding area.
A fast learner, Cali quickly earned the title of Cali the Fire Dog—and, eventually, her own badge—and began going out into the community to teach people about fire safety and prevention. "We ended up doing our first school presentation with the fire department when she was about 9, 10 months old," Montalbin says, "and the rest is history."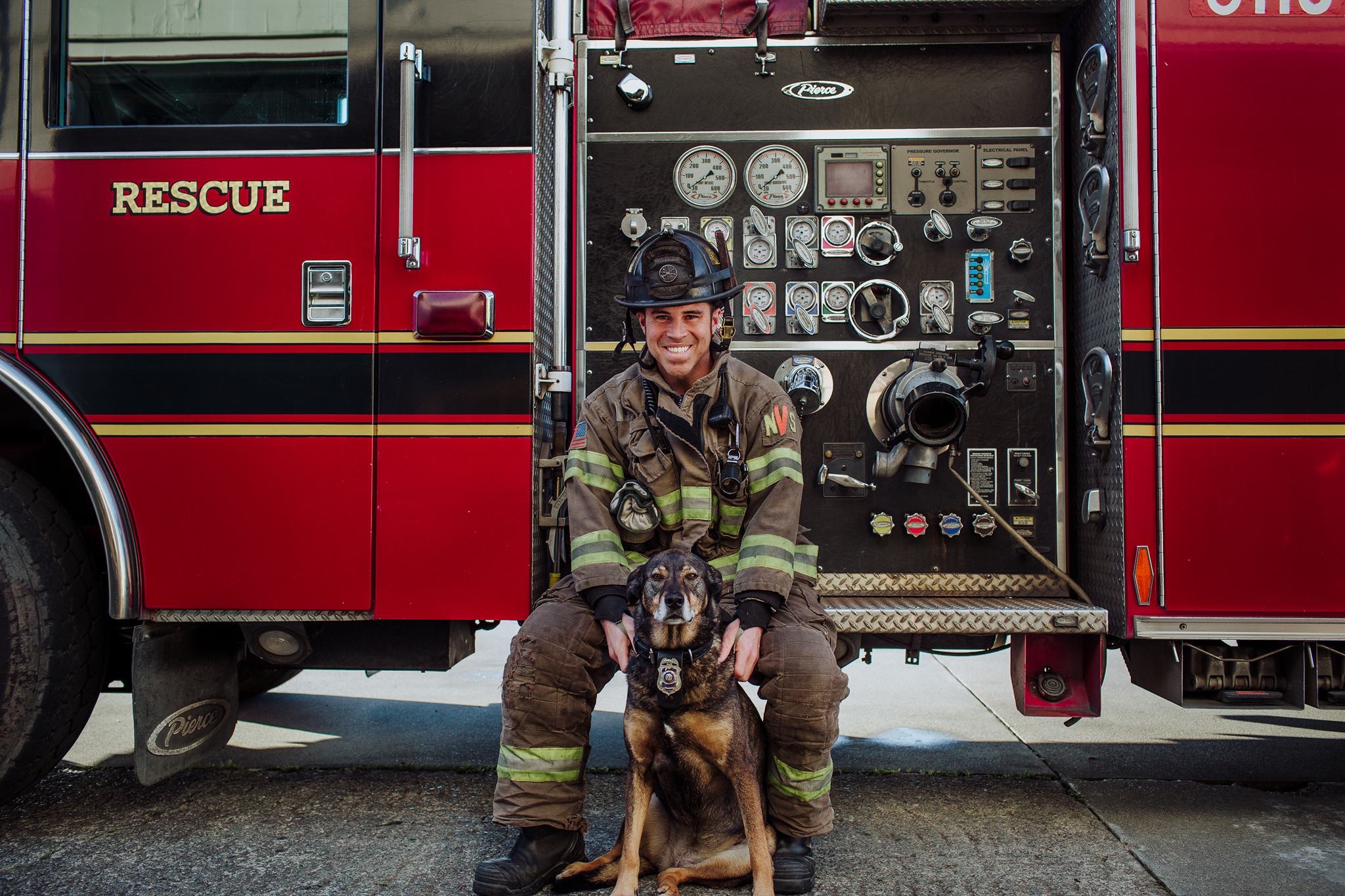 A natural teacher
Kids are mesmerized by this firefighter's dog. "I've been a fireman with this department for 13 years, and we show up, and we bring in tools and stuff to show the children—the axes and our helmets and the fire engine. We let them spray water if we have enough time. Everyone thinks the other stuff is cool, but the dog steals the show every time," Montalbin says, reeling off all the tricks Cali can do.
"She can stop, drop and roll. She retrieves a plastic telephone and brings it to me in an effort to show kids that sometimes you need to be able to grab a phone and give it to an adult if they have fallen down. Of course we talk about what to say if you have to call 911, what information they're going to need from you."
Cali has performed her educational routine for kids as young as preschool age. According to the U.S. Fire Administration, more than half of the children who die in fires are under the age of 4 years old, so it's important to reach this audience with fire safety information. 
One of Cali's best qualities is her sweet temperament. She is good with little kids. "I trust her unequivocally," Montalbin says.
A mutt, and a survivor
With her striking appearance, people were always asking Montalbin, what kind of dog is she? For the longest time, he didn't know, and it really didn't matter to him. But his girlfriend, Megan James, got him a dog DNA test last Christmas, and they learned that Cali is a mix of Australian cattle dog, Australian shepherd, border collie, German shepherd, Rottweiler and other breeds. "She's a total mutt," he says, "and I love that."
Cali is also a cancer survivor. Earlier this year, she was diagnosed with an insulinoma, which is an insulin-producing tumor on the pancreas. James set up a GoFundMe to raise money to cover Cali's medical expenses, and people donated more than $7,000 to pay for surgery to remove the growth.
After recovering from the procedure, Cali did what she loves to do—she got back to work last March. The pandemic had hit the United States by then, and Cali and Montalbin couldn't do in-person presentations anymore. So they took their fire safety lesson to Zoom. "We've been doing this for 10 years, and that's something we had never done before," Montalbin says. "I guess this was an old dog learning new tricks."

Someone to lean on
When Cali isn't working, she likes to go to the beach. "She's always been really athletic and up for going on a long hike or being on the beach or running around all day. And then if we don't have anything, and we have a mellow day, and I'm not able to give her as much exercise, she's perfectly happy being lazy, too," Montalbin says of his faithful companion.
At the firehouse, the firefighters find her a source of comfort. "People enjoy being around her," Montalbin says. "She's a leaner. She just comes up and leans on you. The captain will be in the office writing reports, and she likes to go sit at his feet. She's made all these different relationships with all these different people."
Montalbin considers Cali a member of his family and a cherished best friend. "Your dog doesn't complain. Your dog doesn't judge you. Your dog always listens," the firefighter muses. "I think the quote is, 'Everyone thinks they have the best dog, and none of them are wrong.'"
See more of Cali on her Facebook page.