On June 17, Ruth was crowned America's Favorite Office Dog* in a contest conducted by the pet-care company Rover. The honor was a testament not only to the 5-year-old Samoyed's vibrant white, fluffy coat and magnetic personality, but also the winding path that's taken her halfway around the world from China to New York, where she lives with her human—Alex, a product designer at The Farmer's Dog—and delights her colleagues every time she wanders the hallways.
Walking down the street near Alex's home in Brooklyn, Ruth lives the life of a celebrity. People will point and exclaim in delight from across the street. When she looks up at a new acquaintance with her smiling eyes, she makes instant friends. Commuters, shoppers, and outdoor diners drop what they're doing to let Ruth know that she is a very good girl.
"When they see her, they feel like she's really looking at them," Alex says of strangers who encounter Ruth. "They feel like they need to start a conversation with her." Even during a Zoom interview, Ruth does seem to be looking at you and listening when you mention her. As we prepared to write this profile, she appeared to look right into the camera, flashing her goofy grin and wagging her tail like she knew she was the topic of conversation. We can't prove that this is the case—but it is how talking to her felt.
Ruth's life sometimes seems like a never-ending procession of pets and praise from everyone she meets. She's brushed and groomed regularly. There are days now when you can quite literally find Ruth wearing a crown like the queen she is, but she has not always been treated like royalty. Below is the story of how she got here, who helped, and why she and Alex are meant for each other.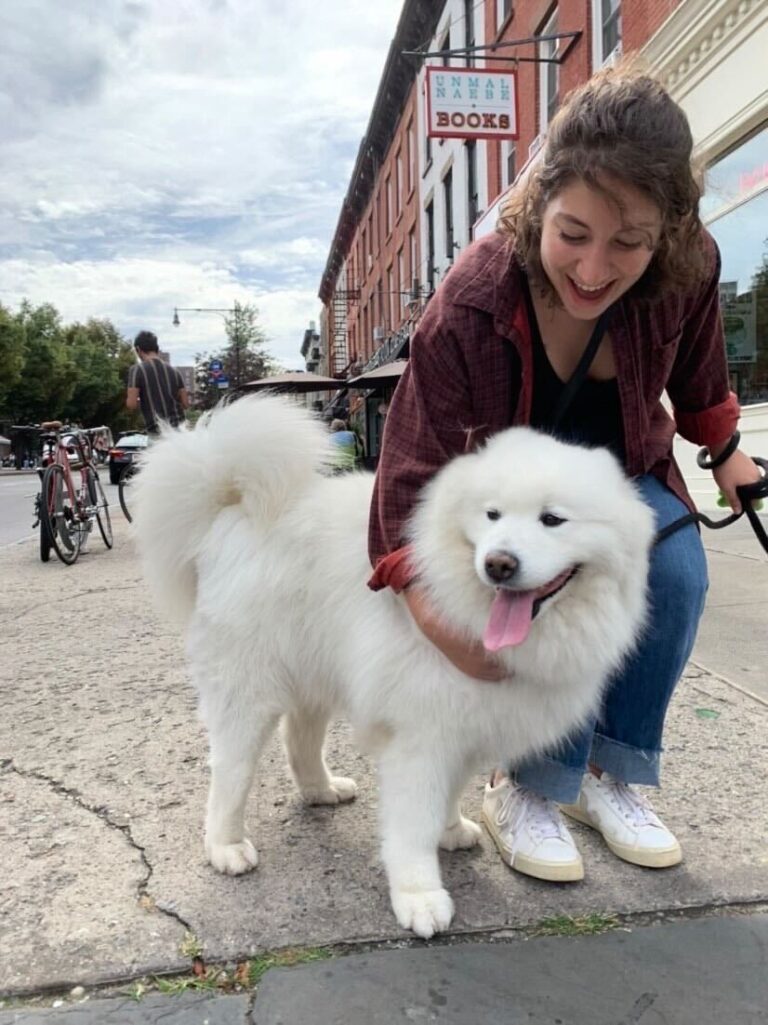 "I'm gonna try and make it work"
"I was really sick in 2019," Alex says, "and it put a lot of things into perspective for me." After undergoing cancer treatment, she resolved to get a dog as soon as she could. "I felt like I should do things that I want," she says, "regardless of the timing."
Her search for a larger dog who wouldn't aggravate her allergies led her to Samoyeds, and through social media connections she found Nana's Haven—an organization that rescues dogs from the meat trade and high-kill shelters. In the fall of 2020, Alex says, despite her parents saying it might not be the right moment to bring home a dog, "I was getting super restless about it, and said: 'I am going to put in an application; I'm gonna try and make it work.'"
She immediately connected with Lauren and Eliza, who run the rescue organization, and convinced them that she was ready to care for a dog. "I am at a point where I don't care if I have a couch messed up or the dog has accidents for a while," she told them. "When you get really sick," she explains, "you don't sweat the small stuff anymore. People return dogs because they don't quite fit into their life the way they imagined. But getting a dog is not about them fitting into your life. It's about you making sacrifices for them. No one lives a life that's perfect for a dog to slip into, because every dog is different."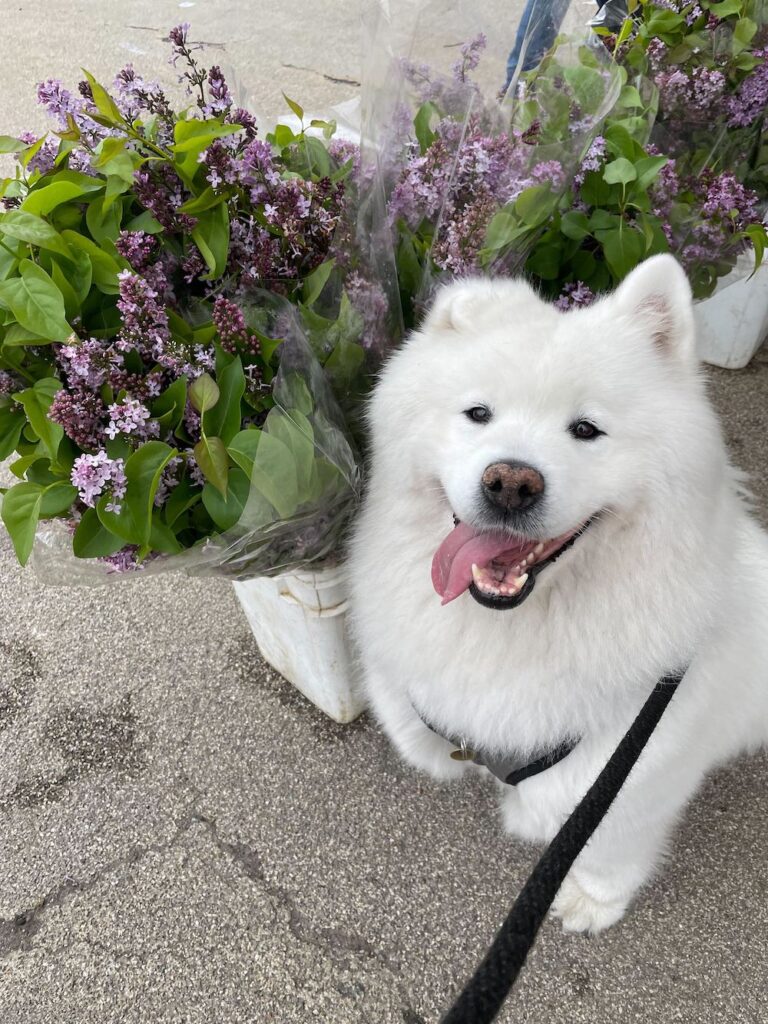 The vet team's favorite
Before she came to live with Alex, Ruth endured brutal conditions. She was around 4 years old when the organization bought her and saved her from being eaten. She'd been used for breeding in the meat trade. In addition to being spayed and vaccinated, she also had to be shaved due to infested fur and infected skin. It may be hard to believe given her current cloud-like appearance, but she had to regrow that glorious coat from scratch.
Yet, despite her difficult circumstances, Ruth remained friendly and positive. When Eliza described Ruth, Alex remembers, she called her "the vet team's favorite." That stood out to Alex, who decided to adopt her and sponsor her medical care while she was still in China.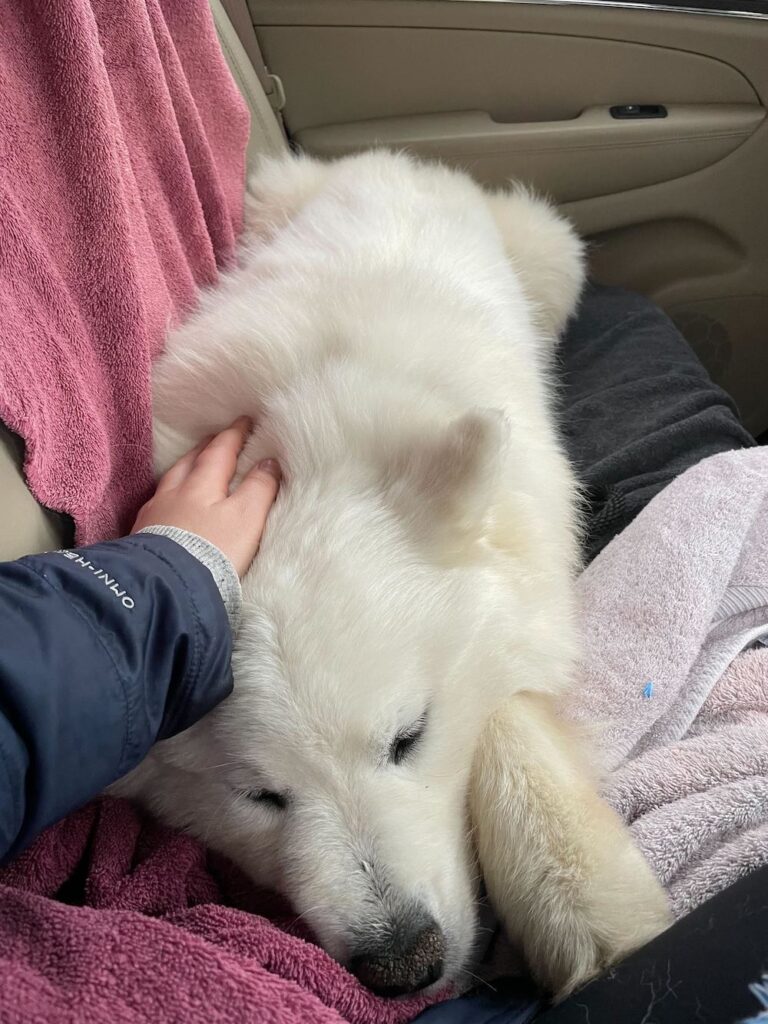 Happy to be here
Ruth arrived at New York City's JFK Airport with a large group of other dogs. "She ran right to me," Alex recalls of their first meeting, "and I immediately fell in love; it was such a magical moment that had been building up for months."
In the Rover contest, Ruth went by the nickname "Cuddle Queen," in large part because she was affectionate from day one. "After a few tries," Alex remembers, "she laid her head in my lap. We drove home for an hour, just two of us in the back seat, all cuddles." Although Ruth was scared by all of the changes in her life, her human says, "she was immediately trusting and loving."
While one might reasonably expect Ruth to have some hesitation about certain stimuli, she took to life in New York with a considerable joie de vivre.
Ruth is an optimist. She believes that every toy and tennis ball belongs to her—and knows that if someone nearby makes a happy, high-pitched noise, it's probably about her. "She'll go up to anybody, sniff them, say hi, and look at them with her eyes like: 'Are you gonna pet me?,'" Alex says. "She's so curious about smells and what people are doing. She's always trying to go into every open door and see what's down there. She's really been a miracle. It's wild how she adapted to being in a whole new place, hearing all new sounds and a different language. She's very trusting and open."
That doesn't mean Ruth and Alex always see eye to eye. While smell is an important sense for dogs, and we should all make sure that our pups get adequate sniffing time for their happiness and mental health, Ruth embraces New York's bouquet so much that her human can end up spending more time on walks than she'd prefer. "She wants to smell every corner and inch of the city." Alex says of the fragrance fanatic. "She will actually do a 180 and pull me back half a block and be like, 'I missed something.'"
Another factor reducing Ruth's walking efficiency: sometimes she digs in her heels in an effort to get pets from every stranger on a walk when Alex is on a schedule. "I've gotten much stronger," Alex says. Ruth also has an unfortunate habit of trying to eat napkins off of the sidewalk.
And, at home, if her human is taking a Zoom meeting that's too loud for her taste, Ruth lets her know.
"She'll walk past me, look at me, and then go into the bathroom or hide behind my bed. It doesn't scare her—she's just annoyed. She's like a roommate. She can't say 'can you turn it down?,' so she just goes into the other room."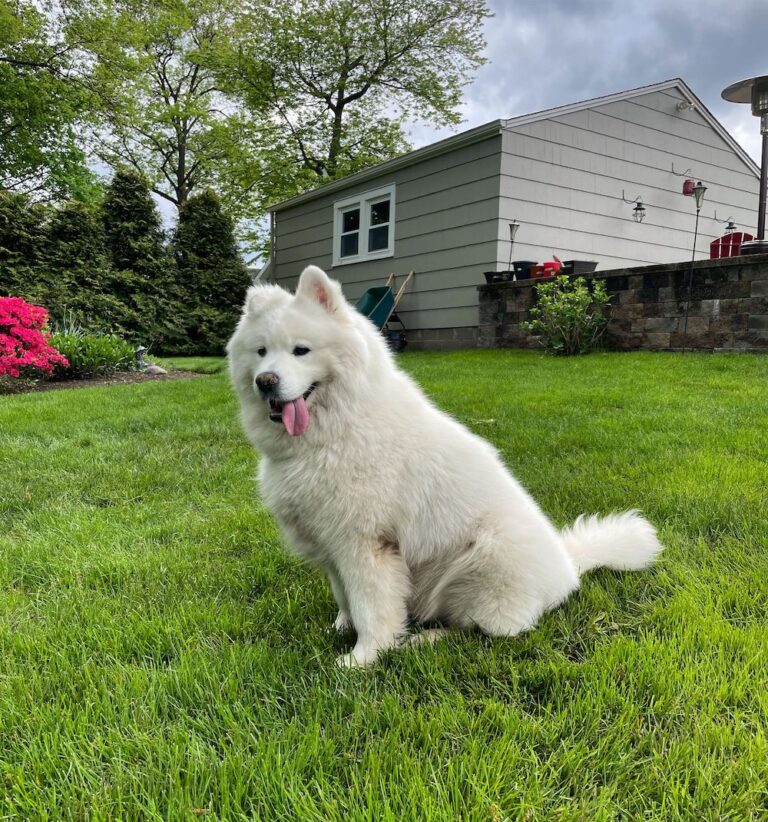 America's Favorite Office Dog: She's just like us!
What's next for Ruth now that she's officially an award winner? Some well-deserved rest.
After a trip to the groomer, Ruth's going to be taking it easy for the summer. "It's getting hot," Alex says. "She doesn't like the heat. She loves a good nap, so she will be thoroughly resting after attaining celebrity status."
*The Farmer's Dog's official position is that, while Ruth is a deserving winner, all dogs are equally wonderful.