Anna Drezen is an accomplished standup comic and one of the head writers for Saturday Night Live. She is also the owner of a Chihuahua-terrier mix named Lady Bird, and a lifelong dog person.
"When I was a small child," Drezen says, "I would hug my aunt and uncle's dog Spike and say: 'he's my friend! He's my best friend!' It was one of the first sentences I'd say." Drezen acknowledges that her younger self may not have followed conventional best practices for human-dog interaction, but has an explanation: "I think most people shouldn't hug dogs," she says, "but I am special and can."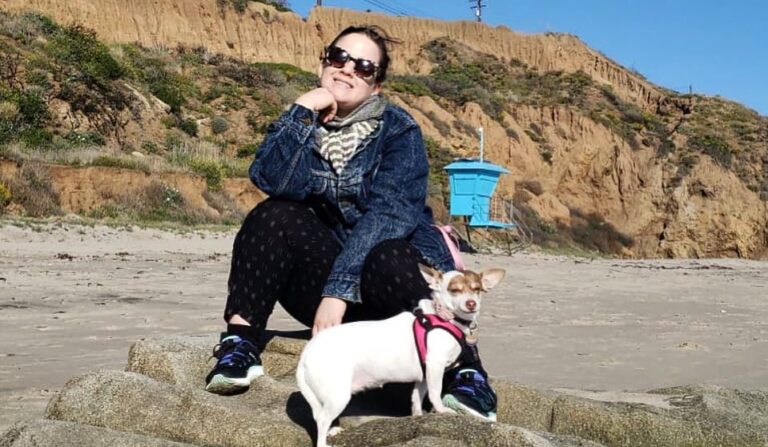 Seeking a dog for the end of the world
Drezen was "obsessed" with her family dog until he passed away when she was 20 years old. But it took some time to acquire one of her own.
"When you're a creative type living in New York," she says, "having a dog is like having a kid on some level, where you're going to have to spend a lot of money all the time, and I was always a little hesitant."
After years of work, Drezen was hired to write for Saturday Night Live—at which point the problem became not money, but time: "It was a schedule thing where I was like, 'I don't know if I'm going to be home for a dog."
Eventually, a moment of truth arrived. "There was a buildup of really horrible news stories one week," she says, "and I had the thought: If the world ends tomorrow in a nuclear mushroom cloud, I don't want to have never owned a dog. To have been so cautious that I never live or have the meaningful experiences."
Early in her search on PetFinder, she came across Lady Bird.
"Hello, Vandelay Industries."
The adoption application, from an organization called The Sato Project that rescues dogs from Puerto Rico, placed one hurdle between Drezen and the dog of her dreams: a field labeled "landlord."
Drezen lived in a building that didn't allow dogs, but knew that she would move as soon as she got one. She didn't yet have a new address, but did have a network of comedians. She enlisted a friend, improviser Matt Little, to play the role of her landlord. "I feel really bad about this," says Drezen. "Don't do this, anyone who's listening."
Little used his improv chops and a convincing Brooklyn accent to seal the deal. "What kinda dog is it?," Drezen remembers Little asking his interrogators. "Oh, it's like a little thing? Yeah, that's no problem."

Drezen recognizes both the entertainment value of the story and the riskiness of her plan. "Pretty funny," she says. "But if they need to take Lady Bird away from me now that they know that, I understand." To any adoption authorities reading this: please do not take Lady Bird away from Drezen. While acquiring Lady Bird involved light subterfuge, and we wouldn't endorse such methods, Drezen moved to a dog-friendly building right away and has been an exemplary caretaker for her best friend.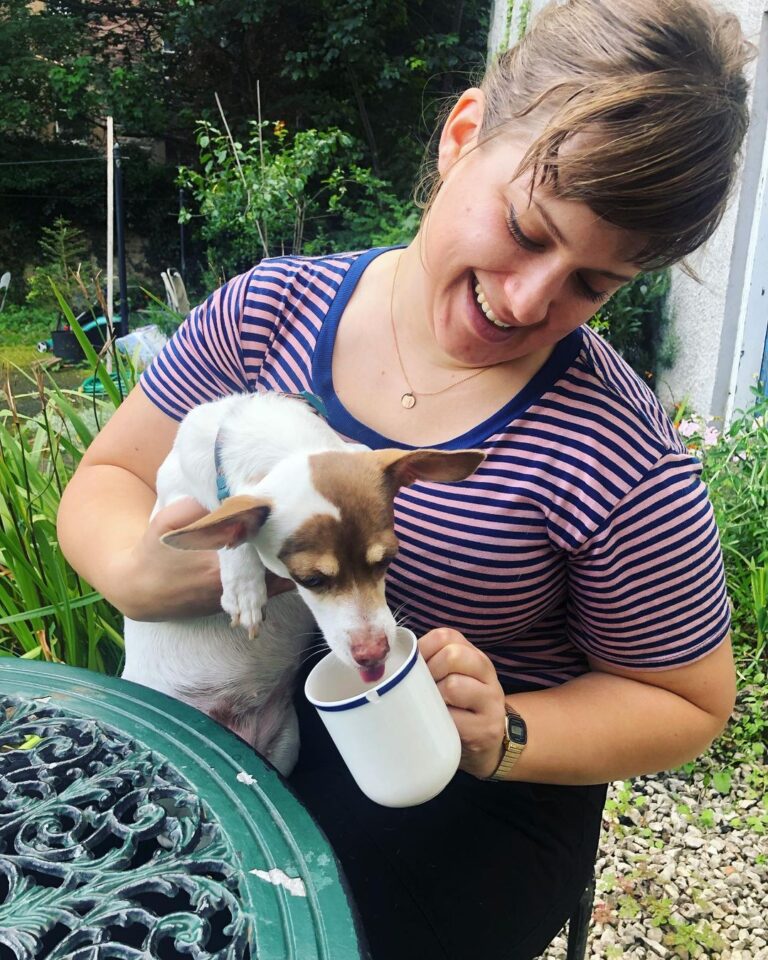 "Love at first sight."
Drezen met Lady Bird on a Sunday morning, right after Jimmy Fallon had hosted SNL. Normally on Sundays, Drezen would sleep late, recovering from a six-day work week and a long Saturday night. This time, she headed to Bushwick, the Brooklyn neighborhood where Lady Bird had been staying. En route, Drezen searched the internet for tips on how to know if they were a good fit. "I'll Google advice that you should just ask a parent," she says. 
Quora didn't have what she was looking for, but Lady Bird did.
"As soon as I saw her it was—[it sounds] cheesy, but—love at first sight," Drezen says. "She immediately got up—she'd been lying in her bed all night—ran over, and licked my face. I sat down and started weeping. And then she jumped off my lap and went over and ate her whole bowl of food. [The foster parents] said that they were feeding her by hand, but other than that she wasn't eating—she was too scared." Bond established, Drezen and Lady Bird ventured out into their new life together.
View this post on Instagram
Work-dog balance
Drezen made early efforts to bring Lady Bird to shows, but says "when a cute dog is around, no one's laughing—everyone's going 'awww,' and 'awww' is the opposite of 'hahaha.'"
There were also difficulties when she brought Lady Bird to a temporary job. "She would stand under the conference table and scream," Drezen says. So she does have to leave Lady Bird behind sometimes. But, like all responsible dog owners, she makes sure that her pup has company and exercise while she's out. On Tuesdays and Saturdays, the late nights for those who work on SNL, a dog-sitter "will come over and feed and walk Lady Bird, but also be in the house so she isn't alone all the time."
Early on, it was tough for Lady Bird to embrace walks with those she didn't know well. "It was a sign that Lady Bird was in love with someone if she'd poop in front of them," Drezen says, "and there were very few people she would poop for. So that was a little stressful. There would be days where it was like, 'Well, I had a dog walker come over, but I know she hasn't pooped and she's holding it for someone she trusts.'" Over time, Lady Bird learned to poop with a wider variety of company.
The SNL schedule has its benefits when it comes to dog caretaking. "Our job starts in the middle of the afternoon most days, so I can take her for a morning walk," Drezen explains. "We also have pretty frequent hiatuses, unlike other shows," Drezen says, "so I'll not see her as much as I want during show weeks—but then I've have these cool dog vacations with her every couple of weeks."
Dogs on film
Lady Bird doesn't come to 30 Rockefeller Center, but sometimes Drezen gets to be around dogs at work anyway.
One such opportunity arose via the sketch "Joan Song," in which Aidy Bryant sings about her dog being her boyfriend… and said pooch transforms into Harry Styles so he can duet with her. The sketch's genesis was a song that Bryant sang into her phone after waking up from a nap. Bryant herself is the owner of a little white dog named Fuzz. "I will never meet him because he doesn't like people who aren't his people," Drezen says of Fuzz. "He's the forbidden fruit of the dog world for me."
Production of "Joan Song" involved leafing through photos of canine actors, searching for the right look. "We were casting based on fat neck, because it was in the lyrics," Drezen remembers, "and we found a really good neck."
Lady Bird doesn't own a TV
A dog can be a stabilizing, comforting force, and that's certainly the case for people who work in high-pressure fields like comedy television. Lady Bird is not interested in critics, social media, or ratings, and never asks for anything beyond care and companionship. She spends her time at home ineptly hunting flies—"I believe that Lady Bird has killed before in her previous life, for survival reasons," Drezen says, "but I think that now she's not at her fighting weight anymore"—and trying to herd Drezen and her boyfriend Jason into the same room, blissfully unaware of the existence of TV.
"My favorite thing about Lady Bird," Drezen says, "is that I can spend a whole day with my little concerns and dramas at work, and then I come home and look at her, and she doesn't know what any of that is—and she could never know, because she's a dog, and dogs don't know about that stuff. She's my friend who doesn't have a TV. It's really nice and important to have people in your life who don't understand your job, and she understands the least out of anyone."