When "Rigatoni" started trending on Twitter earlier this week, the platform's heavy users might have guessed the buzz was over a new Missy Robbins restaurant, the revival of a Tiktok trend, or the anniversary of a certain New Yorker cartoon. 
The reality was even better: a once-in-a-lifetime photo of a dachshund leaping over the armrest of a wooden bench, against the backdrop of a moody sky and a rainbow arching over the Brooklyn skyline.
Nicole Rosa, Rigatoni's mom, took the photo the afternoon of April 19; she posted it to her dog's Instagram account (@wienofwallstreet) and, later that evening, to Twitter. The next day, Rigatoni was trending and the post was closing in on a million Likes.
Sometimes it's hard to dissect, or understand, what makes an image catch fire on social media, but this photo was an unmistakable, undeniable blockbuster. First, there's a dachshund. If there's a dog guaranteed to garner outsized social engagement, this is it. And, of course, there's a rainbow involved. Right there, you've got something noteworthy. But there was more—the dreamy, painterly palette, the dramatic sky, the dog's look of triumph that suggested transcendence of something much larger than a 6-inch armrest. Oh, and the dog's name—Rigatoni.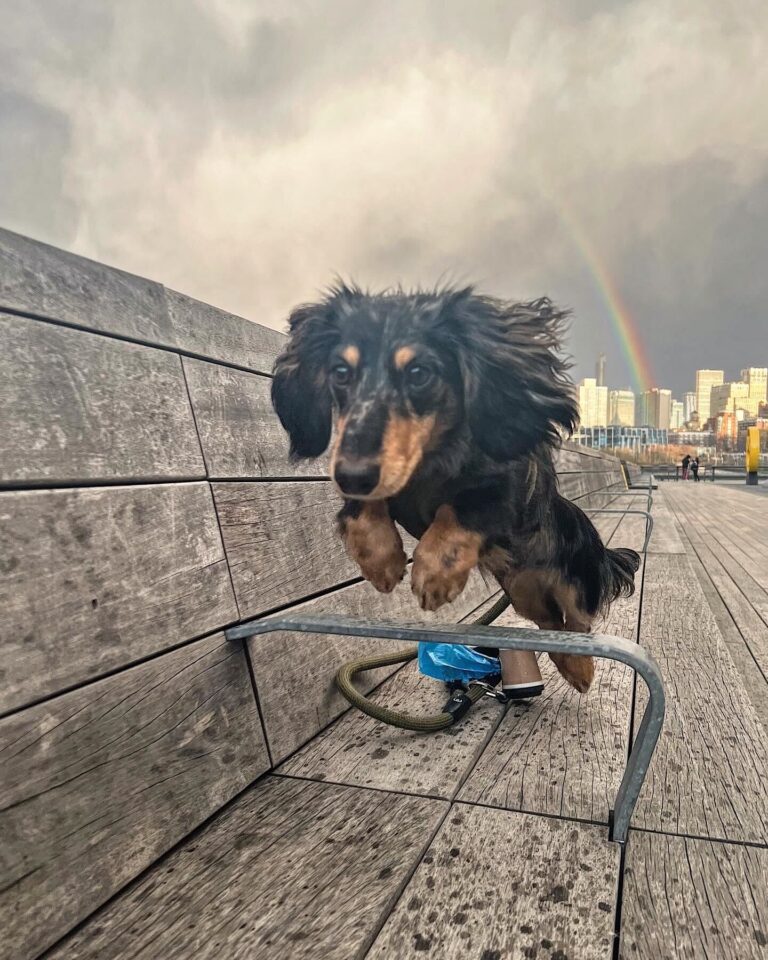 Rosa, who works as Manager, Advocacy and Community at The Farmer's Dog, tells us how she and 10-month-old Rigatoni came to be on that bench and in front of that rainbow that day, and how it feels to have your dog go viral. 
Tell us about the picture—where and how did it happen?
We were at Pier 17 at the Seaport in NYC, and Rigatoni was playing with another dachshund who he's friends with and who lives in the neighborhood. The other dachshund's owner noticed that a huge, scary-looking cloud was heading our way from over Governors Island, and she decided to head home. We kept walking a little more because it was just one cloud; I figured it would be a quick sun shower—which is what happened, and made for one of the coolest skies I've ever seen. It was raining super lightly, so I was snapping pics of the sky and tried to get some good ones of Rigatoni sitting with the rainbow in the back. He wouldn't sit still, but I just kept snapping anyway. Luckily, I had my iPhone on Live Photo mode and it captured the perfect moment. I didn't realize I got it right away, and it wasn't until like 10 minutes later when I was going back over some of the photos that realized I had this gem.
Did you think you had something special? Did you expect a big reaction?
I definitely knew it was an awesome picture. I texted it to my mom right away and posted it on my Instagram Story plus Rigatoni's Instagram—but I was NOT expecting the reaction it got, especially since it was getting some Likes but nothing out of the normal on Instagram. I posted it to Twitter and it got about 100 Likes before I went to sleep. I woke up to waaay more and was like, "wow people love this," and then it just started going crazy viral after that.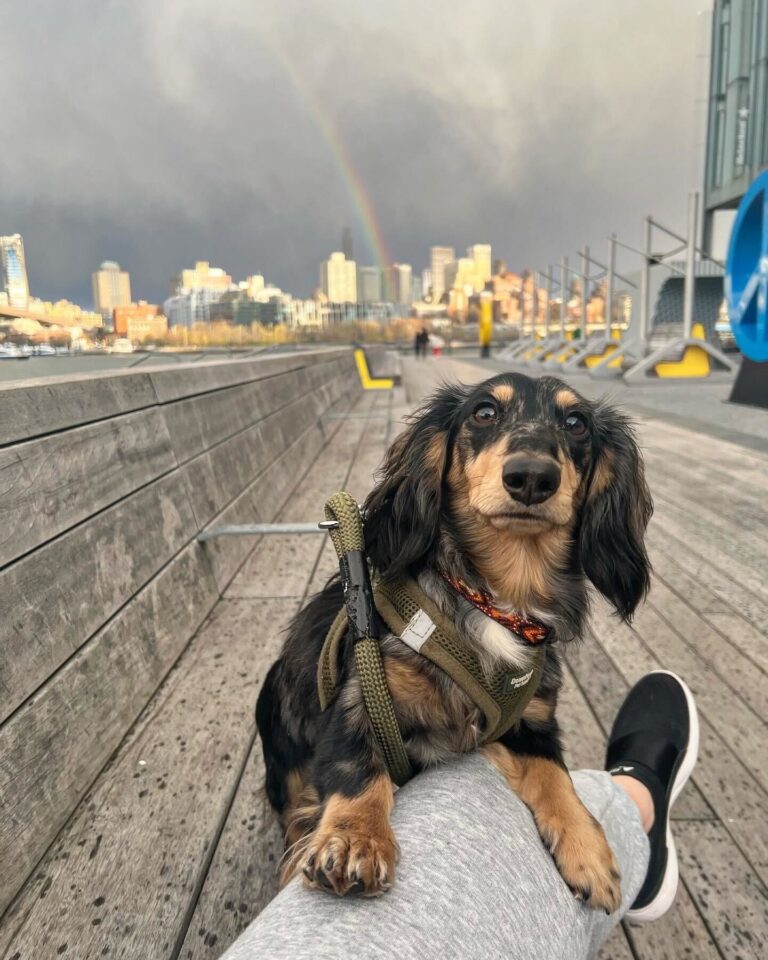 How does it feel for thousands of strangers to join in on being obsessed with your dog, as you are every day?
It's amazing! He's such a sweet dog and brings joy to so many people when they come into contact with him, whether it's jumping into people's laps at the dog park or begging for belly rubs in our apartment building's elevators. So the fact that he could bring a smile to people all over the country on such a large scale is just awesome. I had people DM us about their dog passing or just generally having a terrible week, and saying that Rigatoni made them happy/smile. Hearing things like that was very special.
Why did you name him Rigatoni?
I've always been a sucker for dogs with food names, and dachshunds have such fun personalities that I thought a fun food name would be perfect. I also lived in Italy for a few months back in 2013, so Italy has a special place in my heart—and I knew I wanted to use a pasta name. Rigatoni was the perfect name, because it shortens to some awesome nicknames like Rigz and Tony. Also, he totally has a noodle-shaped body. I call him Tony most of the time, but always introduce him as Rigatoni because the reaction from people is always priceless 🙂