Seattle is a very dog-friendly place, and it's an oft-cited fact that the Pacific Northwest's largest city is home to more dogs than children. Whether you're a visitor, live in the Emerald City, or are just curious, read on for some tips about what to do there with your canine companion.
Some of Seattle's best dog-walking spots
One of Seattle's distinctive features is an abundance of beautiful outdoor attractions within its city limits. Here are a few to check out with your dog.
Green Lake Park: In addition to its picturesque namesake lake, this park includes a 2.8-mile loop great for walking, jogging, biking, or otherwise ambulating alongside your pup. Just make sure to keep them on leash, and, as you would anywhere, pick up their poop. While you may occasionally see dogs swimming in the lake, it's not allowed.
Gas Works Park: Standing on the site of an old coal gasification plant, Gas Works Park combines views of Lake Union and downtown Seattle with a distinctive backdrop featuring pieces of said facility. The former industrial site now makes for a pleasant stroll with your dog.
Washington Park Arboretum: This 230-acre park is open during daylight hours, and features a wide assortment of plant life—including trees like giant sequoias and Japanese maples, flowers like rhododendrons and magnolias, and many more along its paths. Leashed dogs are allowed in most of the Arboretum, but not the Japanese Garden.
Magnuson Park's off-leash area: This is the largest off-leash area in a Seattle park, at 8.6 acres, and the only one with water access. Dogs can swim in Lake Washington, walk along scenic trails, and frolic in a large, open play area (we would say it is large enough for frolicking). 
Other off-leash areas: If your dog needs a free feeling, many parks around Seattle have off-leash areas where they can run to their heart's content. Visit the city's official website for a full list.
Fun hangouts for you and your dog
A day or night out doesn't have to mean leaving your dog behind—these attractions will gladly welcome well-behaved dogs who follow their rules (and the people who bring them).
U District Farmers Market: The U District, the neighborhood anchored around the University of Washington, hosts a farmers market on Saturdays from 9am to 2pm. You can browse local produce and goodies with your furry pal, and often you'll encounter musicians and other entertaining characters as well. The surrounding neighborhood is filled with shops and restaurants that are worth checking out if you want to make a day of it, and the nearby UW campus itself makes for a very scenic walk. It's dog-friendly, but only service animals are allowed inside the buildings.
Norm's: The first thing you see when you visit the Norm's website is the bar/restaurant's dog rules. This is an auspicious clue about the institution's priorities. Indeed, Norm's is most famous for its very liberal policies toward canine diners, eliminating the tough choice of whether to go for a drink or hang out with your dog. They also have burgers, beer, and other fare you'd expect from such a place.
Bark Espresso: Seattle is known for its coffee, and there are coffee shops throughout the city where you can enjoy latte alongside your pup in outdoor seating (and, in many cases, regulations or not… inside as well). But we're giving Bark special recognition because its name and mission point to its dog-friendly nature. Bark includes an indoor space specifically designed for dogs and their humans, officially dubbed the "Hound Hangout," adjacent to the main cafe.

The Seattle Barkery: This business, which started as a food truck, now also has brick-and-mortar locations (plus a "Treat Trailer" at the aforementioned Magnuson Park). It's no substitute for a steady diet of fresh, complete, and balanced food—but, once in a while, your pup may enjoy dog-friendly treats like an ice cream sundae, a peanut-butter-and-pumpkin pretzel, or a "cheezy" doughnut.
Dog Yard Bar: This place requires advance payment and planning—at minimum, you'll be buying a five-day pass for your dog—but it's an environment specifically designed for people hanging out with their canine companions, complete with beer, champagne, non-alcoholic beverages, snacks, and plenty of room for dogs to run around and play. It's 21+, and there are lots of rules to follow—for example, no outside toys or chews are allowed. Before you drop by, make sure you and your dog can abide by the regulations.
The Ice Box: This bar has pinball, arcade games, and a dog-friendly courtyard. Like the Dog Yard, it's an adults-only venue. Your dog can hang out with a friend or family member at an outdoor table if you pop inside and try to top your high score.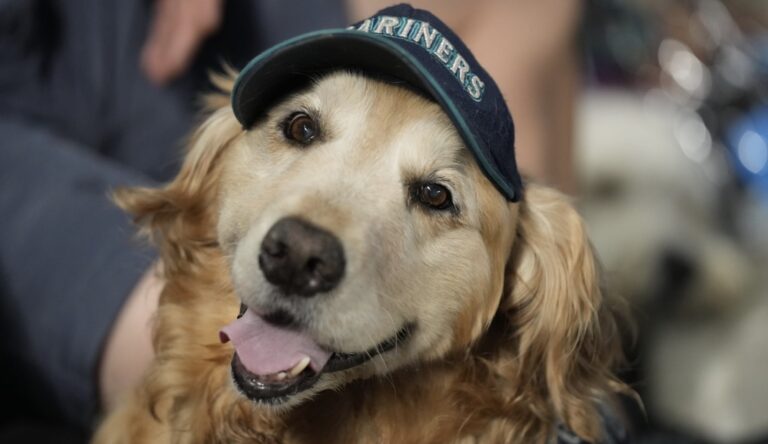 Fun events for you and your dog
Seattle Sounders "Pups at the Pitch": Considering that the Pacific Northwest is the most soccer-mad region in the United States, and Seattle is one of the country's more pro-dog municipalities, we're surprised that it took this long for the Sounders to host their first dog-friendly soccer match. Nevertheless, it has finally arrived, and The Farmer's Dog (that's us) is the sponsor. You can bring your dog to the Sounders' June 29 game against CF Montreal. Dogs and their humans will sit in a designated section and participate in pup-friendly festivities throughout the game.
Some Seattle Mariners games: Dogs are not usually allowed to sit in the stands at T Mobile Park, home of the Seattle Mariners—but they can attend designated "Bark at the Park" games throughout the season. The events include a post-game walk around the bases for pups and their people.

Fremont Fair Sunday Dog Parade: On June 19, this event will see a procession of pups proceed through the grounds of the Fremont Fair. If you want your dog to participate, the registration fee is $20; proceeds benefit Citizens for Off-Leash Areas (COLA).

Fremont Oktoberfest's Dogtoberfest: The organizers of Fremont Oktoberfest encourage attendees to bring their dogs along on Sunday, September 18. If you enjoy beer and live music, but hate leaving your dog behind, this is the day to partake in the festivities.
Getting around Seattle with a dog
Dogs can ride Seattle buses if they and their humans follow the rules, including staying off of seats and remaining on leash. If you hold a small dog in your arms, they ride for free. If your dog is too large to hold, you'll have to pay their fare.
One Seattle lab mix, named Eclipse, made a habit of riding Seattle buses by herself to get to a dog park. This is technically against the rules, and we don't recommend leaving your pup unattended on public transit. But it is very cute.
Also, King County Metro made a commercial starring Eclipse and featuring an original song. It is wonderful. In the ad, Eclipse—who would never try to avoid paying her fair share—wears a fare card on her collar.
Medical care for dogs in Seattle
Like any other big city, Seattle has a wide array of veterinary offices and some 24-hour emergency vets. If you're visiting, it's a good idea to take stock of what the options are around you for pups who need medical attention. There are also 24-hour emergency vets in case your dog needs urgent care outside of business hours. Hopefully you never have to give them a call, but the options include Animal Medical Center of Seattle, Veterinary Speciality Center of Seattle, and Emerald City Emergency Clinic.
Where to get a dog in Seattle
If you're considering getting a dog of your own in Seattle, consider adopting from an organization like Seattle Animal Shelter or Seattle Humane. The area is home to a wide range of shelters and rescue organizations, including some that are breed-specific.
Walking your dog in Seattle weather
Seattle has a reputation for being very rainy—and, true enough, it does have a lot of rainy days, although you're more likely to get a light mist than a torrential downpour. You know your dog, their preferences, and their coat, so how you need to prepare for the weather depends. You may need an umbrella for yourself. Some dogs may appreciate the protection of a raincoat and boots, whereas others may not care about getting a little wet. Pay attention to yours and make sure they're as comfortable as possible while getting some fresh air and doing their business. And, if your dogs happen to get muddy… give them a bath.