We know that one of the most important things we can do for our dogs is to maintain a healthy weight. We know that a lean body condition can stave off or improve arthritis and help dogs live longer. But those facts aren't nearly as compelling as seeing the impact weight loss can have on the life of one dog and the people who love her.
Linda Glass tried every kind of food to help her family's Dalmatian, Jasmine, lose weight and feel better. Jasmine suffered from chronic diarrhea and gas, and was constantly hungry and thirsty. And though Linda incurred substantial veterinary bills trying to determine the cause of her dog's problems and how to solve them, nothing worked. Jasmine kept gaining weight, while suffering from diarrhea that made not only the dog, but the entire household, miserable. When Linda tried The Farmer's Dog, things changed for the better, overnight. Jasmine has safely lost 20 pounds, and her diarrhea and gas have cleared up. Here's their story.
Welcoming home an extra special dog
Linda's family had Dalmatians in the past and a year after losing their dogs, they decided they were ready to welcome another pup. Nine years ago, Jasmine joined their household. Before bringing their puppy home, they discovered she was deaf. The couple had never had a deaf dog before, but didn't hesitate to keep Jasmine. "She turned out to be the sweetest dog," says Linda. "She heals your heart when she looks in your eyes" (she's also a clever pup, says Linda: "If she doesn't want to do what you want her to she won't look at you").
Constant weight gain and diarrhea, and a "starving" dog
Jasmine had been overweight for a long time. Linda tried a range of different dry and canned dog foods, including "premium" (and expensive) brands, but Jasmine was constantly hungry, to the point of trying to steal food from the table. So the couple couldn't help feeding her extras. "She was just so starved all the time. What do you do?" says Linda. "You just give her something you're eating."
About a year ago, Jasmine started getting urinary tract infections, and had continual bouts of diarrhea. And despite trying different foods, making home-cooked chicken and rice, and many trips to the vet, Linda found that Jasmine's digestive issues didn't let up. "It was getting worse and worse," she says. "It would get better with medication, and then would start again. She was always active and energetic, but she just had so many stomach issues. I felt so sorry for her."
And Jasmine's condition wasn't just hard on the dog. "It was a nightmare," says Linda. "It was hard trying to get everything cleaned up. My husband had had a heart attack and he was in the hospital, so I was doing all his chores and this was one of them. I knew her stomach was upset. And every movement she made she passed gas. She could clear a room out real quick…"
An immediate end to digestion woes, and begging…
After seeing The Farmer's Dog on social media, Linda tried the food, out of desperation. The change in Jasmine was immediate, and lasting. "Every day since day one she has changed for the better," says Linda.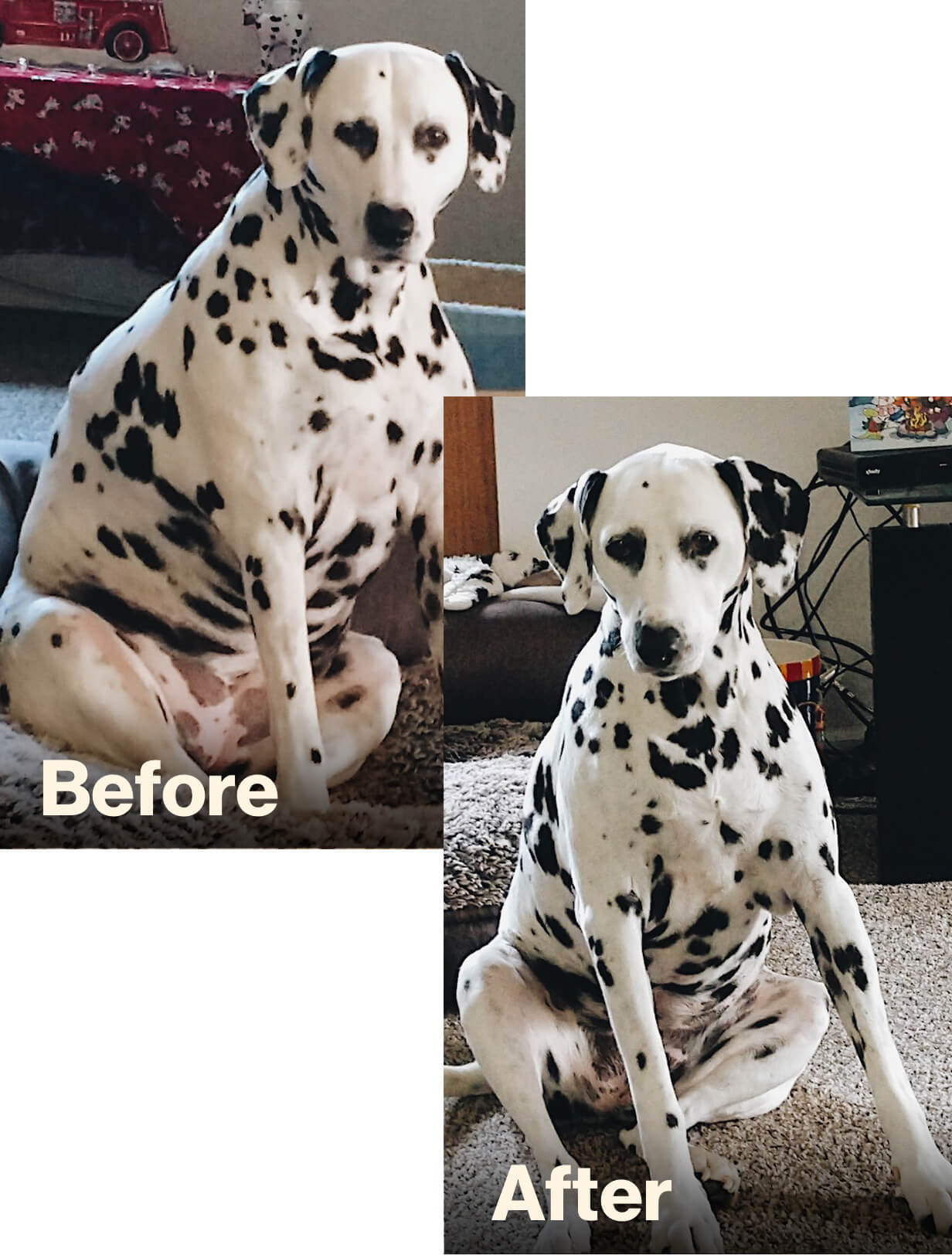 "That first day I gave her any of the food, it cleared up the diarrhea. I kept waiting for it to come back. My husband and I used to fight about who went out to clean up after her, now we fight about who gets to. It's so easy."
Linda says her dog became more active with the weight loss, and her coat improved. "Her fur is so soft and she sheds less, it seems," she says. "You used to pet her and get a whole coat off in your hand. She still sheds but not like she did. And she has more alertness in her eyes."
And equally important, Jasmine wasn't starving anymore, which has made everyone's life a bit easier. "I put half of (the new food) in her big dish and thought 'this doesn't seem like enough.' But she was so satisfied afterward," says Linda. "I never thought I could get the weight off her because we tried cutting back and that didn't work because she was even more starved. I can't get over how she's not starved between meals. When it starts getting close to food time she gets hungry and wants to eat earlier, but in between it amazes me that she's so content. Before, she would sometimes jump up on your lap to try to get your food out of your mouth. And that's what's encouraged me most—not only the stomach issues but also the satisfaction; her whole life isn't just putting something in her mouth."
Jasmine's story underlines the importance of food quality and quantity when it comes to helping a dog lose weight. "We're both senior disabled we don't get out as much as we should," says Linda. "We did it with caloric control."
Jasmine went from her starting weight of 82 pounds down to her goal weight of 60 pounds. Even Linda's vet office staff were bowled over by the change.
"I'm just very happy. That's all I can say. My husband and I are very pleased."