One of the newest members of the San Francisco Giants knows that a walk is even better than a hit. His name is Willie, and he's an 8-month old English Sheepdog. As the Giants' minor league emotional support dog, he's spending the season working with players and coaches at the team's Scottsdale facility and traveling to visit Giants affiliates around the country.
We spoke with Emily Cheatum, the Giants' minor league mental health coordinator—and the human who lives and travels with Willie—to find out more about how the canine rookie has been helping the team's players handle day-to-day stress, rehab, therapy, and other challenges.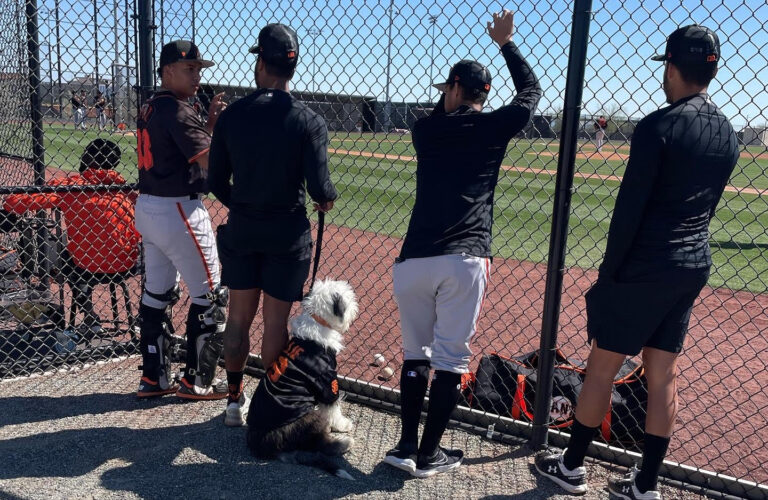 The minor leagues can be ruff
While pro sports at any level can be a stressful environment, minor league baseball players face a particular set of physical and mental demands—constantly traveling and pushing their bodies' limits without the security or larger paycheck that many big leaguers get. Cheatum rattles off common issues for baseball prospects: "Little sleep. Financial stress… You're grinding every single day, moving up, moving down—or not knowing if you're going to get moved down [to a lower-level team]." To make matters worse, players with dogs at home usually can't bring them along for the season. "They miss their dogs terribly," Cheatum says.
For players dealing with difficult moments, Willie is a welcome sight: an energetic, playful dog who has never heard of batting average or ERA.
"The second they see Willie," Cheatum says, "you can see them shed all of that. The smiles on their faces—they say 'come here, Willie Willie Willie!,' and they pet him. It's like an instant stress reliever to [help them] decompress, refocus on something positive, and let go of all the stuff in that moment that they don't need."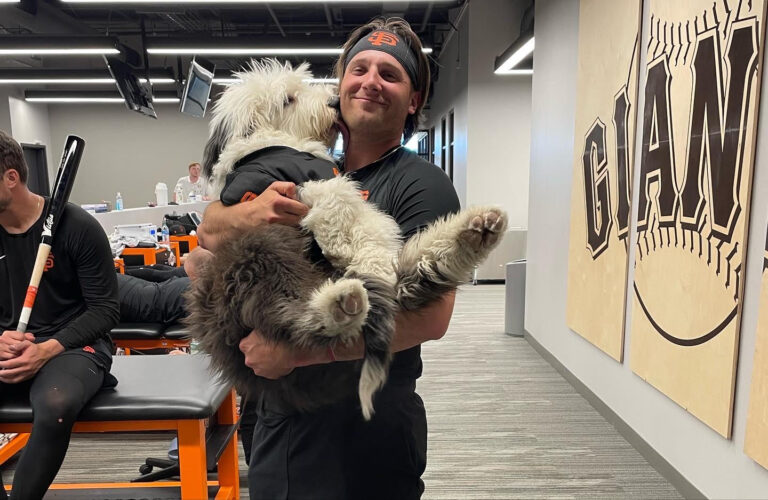 Training + a dog
In a recent study, emergency room patients reported less anxiety and even reduced physical pain after a visit from a therapy dog—and Cheatum says that Willie has a similar impact on the players he works with, some of some of whom are rehabilitating injuries with deep-tissue massages, exercises, cupping, and injections.
In the rehab room, Cheatum says, Willie "goes up to the tables, and [the players] pet him while they're getting treatments done. It really helps take their mind off of the pain and the treatment that they're going through, and actually swings the pendulum the other way where they're petting him, laughing, and giving him commands."
This benefit extends to therapy sessions that can include difficult subject matter. "I've noticed that when a guy might be struggling to talk about something," Cheatum says, "they'll kind of scoot to the edge [of the sofa], bend down… and play with him or give him belly scratches, and they start to open up."
Just as Willie has aided Giants players in their training, the players have been a key part of his socialization and education. He received formal training before embarking on this assignment, but continues to learn on the job. He is, after all, a puppy, and lots of stimuli are new to him.
"The first couple of days," Cheatum says, "he had not experienced having like 70 players walk by in cleats—which is a very loud, crunchy noise." At first, Willie jumped back and cowered. "But then they all came up to pet him," Cheatum says, "so there was quickly a positive association." A similar process has gotten Willie more used to cheering crowds and swinging bats nearby. "Pretty much any time someone sees Willie get scared," she says, "like five people come over and say 'it's okay, Willie.' So there's nothing but positive associations for him all day to match anything."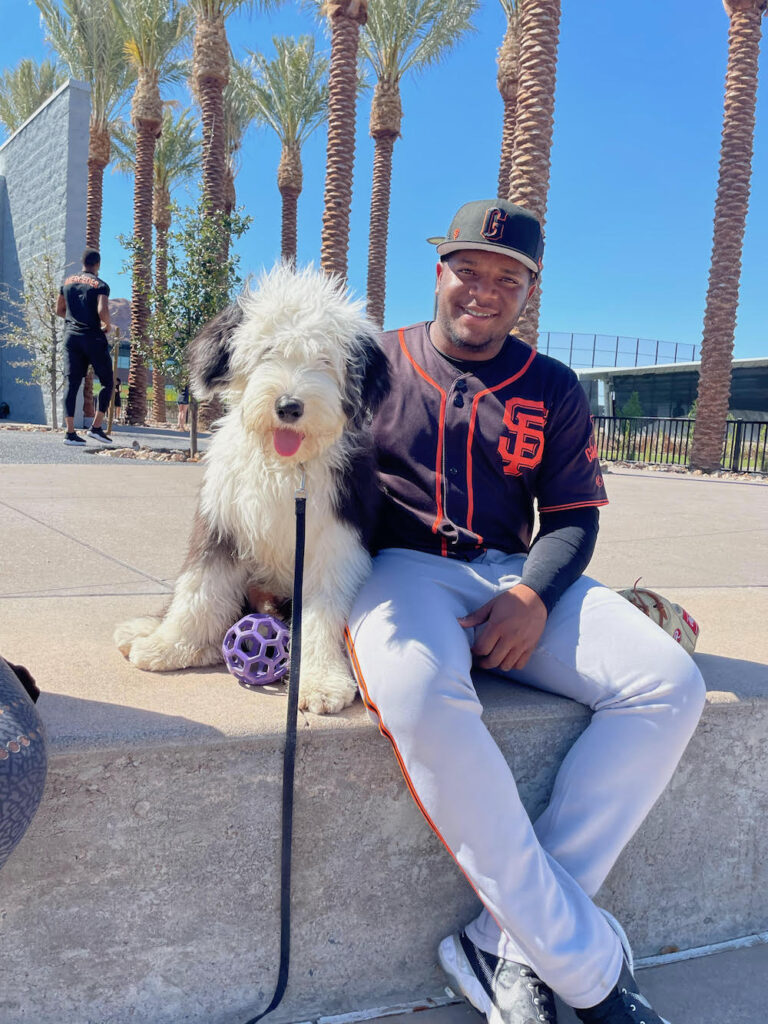 How Willie cracked the lineup
Before Willie, there was Ellie.

Drew Robinson, who had played in the major leagues with the Texas Rangers and St. Louis Cardinals, was in the Giants organization when he survived a suicide attempt in 2020. He now works with the team as a mental-health advocate.
Robinson returned to play with the Sacramento River Cats, the Giants' AAA affiliate, in 2021. During the season, he had Ellie, his service dog, with him on the road. Ellie not only helped Robinson; she was beloved by the other players, too. "They all loved her, and do love her," says Cheatum. Seeing that response inspired Cheatum to suggest introducing a dog who could benefit the whole Giants system. Willie lives with Cheatum—their home base is the organization's Scottsdale complex, and every other week they travel to a different affiliate.
Cheatum says that Willie enjoys his job. "He loves to run around with the players when they're doing their warmup and agility skills stuff," she says, "chase baseballs, and have a good time with them. And then he stays in the clubhouse during the game, and players come in to use the bathroom or do a treatment after pitching… they all have some decompression time and get on the floor with Willie, and can play around and be goofy." And, yes, a giant lawn with a limitless supply of balls and a living room full of friends who want to pet you does sound like a dog's dream workplace.
Still, even team dogs with their own adorable number K9 jerseys need a good work-life balance. Cheatum makes sure that Willie gets rest breaks, including time indoors in climate control, so that he doesn't get too much exercise or sun.
There are also the hassles of life on the road. So far, Willie has handled those with a veteran's poise—holding his bladder on a flight from Arizona to Richmond, Virginia, for example, then adjusting to sleep in a hotel room. "I think the airport travel is a lot for him," Cheatum says. After arriving in Richmond to visit the Flying Squirrels, she says, "he slept really well that night. We both benefited from that."
More dogs on deck?
Baseball has seen its fair share of changes in recent years, some of which have been lightning rods for controversy (automatic runners on base in extra innings? Disgusting. The National League DH? A travesty.) But all dog people can agree that dogs' arrival in the big leagues cannot come a moment too soon. So is the pitter patter of paws right around the corner from a clubhouse near you?
In the case of the Giants, Cheatum thinks it could happen. "Everyone's already just completely head over heels in love with Willie ," she says. She sees logistics as the main hurdle: Someone has to be in charge of a dog during long bus rides and make sure that they get fed, take bathroom breaks, and receive the kind of treatment a pup deserves even in the midst of a baseball season. "Drew obviously did it," Cheatum says, "so it can be done." She says that there has been talk about putting a "clubbie"—a team employee who works in the clubhouse—in charge of a big-league dog, but then the dog wouldn't be able to go on the road with the team.
Nevertheless, it could happen, and plenty of players would be happy if it did. Even in Willie's short time with the Giants, he's become a favorite of the team's farmhands—and they miss him when he leaves. "When I told [players] the night before we left [Richmond]… they were all really bummed, and they started saying they were going to have someone bring in their own personal dog. He brings so much positive energy and laughter into that clubhouse and onto the field. They always want to know when I'm going to be back next."
If you or anyone you know is having thoughts of suicide, contact the National Suicide Prevention Lifeline at 1-800-273-TALK(8255) or suicidepreventionlifeline.org