Jon Gray is a starting pitcher for the Texas Rangers, who are currently atop the American League West standings. The bearded Oklahoman stands 6'4" tall, and his fastball averages 96 miles per hour. He may intimidate batters when he stares in from the mound, but his four Yorkshire terriers see a softer side of him.
Gray lives with four Yorkies: Sophie, Trunks, Lilly, and Arlo. He didn't foresee this lapdog population density when his wife, Jaclyn, brought home their first Yorkie, Bentley, a decade ago. The then–minor-league pitcher preferred big dogs, like the cattle dogs he remembered growing up with. "I didn't want a little dog at first," he admits. "I was kind of upset when she brought [Bentley] home. But within two days we were best friends, and we were inseparable."
Sadly, Bentley has since passed away. But he made a tremendous impact on the pitcher, and established that his would be a Yorkie household. How thoroughly has Jon been converted? Asked to describe his dogs' personalities, he freely referred to ten-year-old Sophie as "my little sugar bear" due to her affectionate nature.
"I was so wrong," he says, "about lapdogs."
August 16 is shaping up to be a momentous night for Jon, as Trunks and Sophie are slated to attend their dad's divisional matchup against the Los Angeles Angels on Bark at the Park night—and he is listed as the Rangers' probable starter. 
Loyal fans
Sophie and Trunks may be at Globe Life Field on August 16, but it's safe to say they will have no opinion about Jon's performance on the mound. In a fickle business where fans sometimes judge players based on how their most recent game went, that's a huge plus.
"When I come home every day," Jon says of the 7-year-old Trunks, who was born with only three legs, "he literally smiles… he knows how lucky and special he is. He's the happiest dog."
Jon's dogs always give him a warm reception, whether he's put up zeroes or had a rough outing. "I swear, they can feel what you're feeling," he says, "and they know how to comfort you better than anyone."
Jon's intuition about his dogs not only matches what many other dog people will tell you; it also has research behind it. Studies have shown increased levels of the hormone oxytocin in dogs and humans who gaze at one another, and that petting dogs can yield a decrease in the stress hormone cortisol. And, after years of evolution alongside us, dogs have gotten good at reading our emotions.
"I don't know what it is they sense," Jon says, "but they definitely know [when you're upset], and I believe they kind of have a sense of duty, too—that's them showing that they care about you, love you, and appreciate you. It goes a long way with me."
The Grays' dogs also get along well with their three cats, Addie, Mia, and Sonja. "They have their little alliances they form," says Jon, hinting at some benign animal-clubhouse drama, "and they're buddies."

"It's like a zoo in our house," he says, "but we love it that way."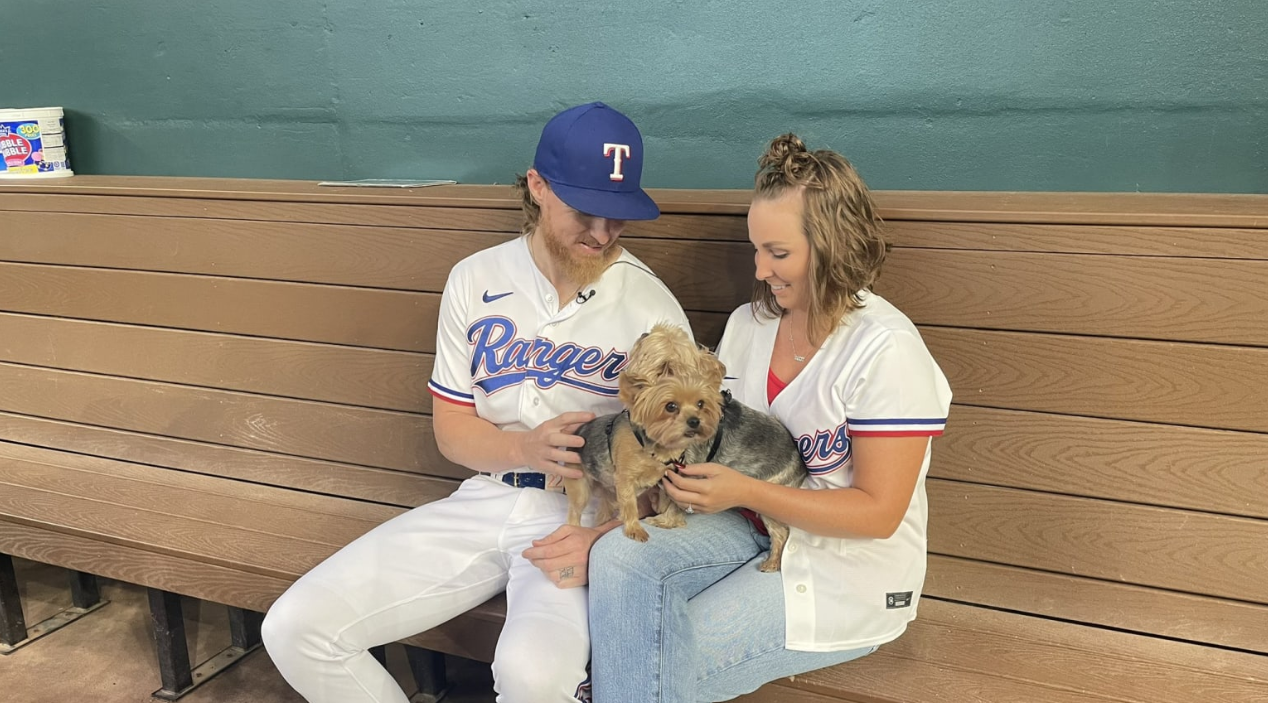 Ks for canines
Because dogs have improved the Grays' lives in so many ways, the couple has focused considerable energy on charitable efforts to help them. Since 2022, Jon has donated $100 for every one of his strikeouts to The Pawerful Rescue, a Texas-based rescue organization focused on dogs who have special needs due to medical issues, behavioral challenges, and age.
"I think every dog is special," Jon says. "To see these dogs that have kind of never experienced much good in their life, just to know what love is—we're blown away by how well they've treated the dogs that need it the most."
The Grays were instrumental in bringing about this year's Rangers puppy calendar, which raised funds for the rescue and showed players posing with dogs—in Jon's case, Sophie and Trunks, who enjoyed their first trip to Globe Life Park for the photo shoot. "They thought it was awesome," Jon says. "They were a little shy at first, but toward they end they kind of wanted to go explore."
Consistency is key
Asked how he maintains such a strong bond with his dogs, Jon doesn't hesitate.
"I think being consistent with them is really good," he says. "Just being level, not being erratic. I think dogs like people that are easy to read and make them feel comfortable. I always thought I was extra gentle with animals, and I think that paid off."
Indeed, when we asked experts how to bond with a dog, consistency came up as a major theme—as did kindness. Your dog has to know the rules of your home, for their safety and everyone else's, but it's equally important they have happy experiences with you and know that you have their back. Jon's own dogs relish going on car rides, sharing puppuccinos, and watching as he prepares "special little puppy pancakes" on some mornings. Trunks may bark impatiently if his are taking too long.
As far as consistency goes, Jon credits Jaclyn with maintaining stability for their companion animals during the season—keeping up a steady routine for them when his job means he's often on the road. "She's the glue that kind of holds everything together," he says.
Striving to be a champion
Jon would be happy if Trunks and Sophie saw him rack up strikeouts that also meant donations to the rescue. "That," he says, "would be awesome." They might not understand the significance of the Ks, but Jon believes that dogs who get rescued grasp something more important.
"A dog in need," he says, "understands whenever you give them a home. And that's worth a whole lot. I've seen it happen. We've fostered old animals before, and other dogs, and it's incredible. They understand that they're being saved and are getting shown what love and the good life is, and I think that's so important. I think every dog deserves that with how good they are to us."