Even if you love travel, the idea of leaving your dog behind might make you want to stay home forever. If that's how you feel, the good news is that—in some cases—you can bring your canine friend with you. Doing so demands some extra planning, though. If you're interested in taking along a furry travel partner, read on for some basics. Before you go, check with airlines, railroads, hotels, and anyone else who will be accommodating you and your pup about their policies. Especially in the age of COVID-19, they may change from time to time.
Traveling by plane
There is no one-size-fits-all solution to traveling by air with your dog. Regulations vary by airline, the size of the dog in question, and other factors. As with all aspects of canine-accompanied travel, a bit of research and preparation will serve you well—here are some of the key topics to cover.
Is my dog allowed on the plane?
If you want to bring your dog into the cabin with you on a plane, you'll probably have to pay an extra fee and keep them in a carrier that fits beneath the seat in front of you. In-cabin pets face size and weight limits—for example, some airlines cap the combined weight of dogs and their carriers at 20 pounds. There may also be breed restrictions; many companies won't allow brachycephalic dogs onboard due to the difficulty they can have breathing.
Can I carry my dog onboard in an Ikea bag?
No. You'll have to use a carrier or kennel, so buy a product approved by the airline you'll take—and in which your dog can hang out comfortably for the duration of the flight.
I have an Emotional Support Animal (ESA). Are they treated differently than pets?
Not anymore. Until recently, ESAs could ride in airplanes regardless of their weight, didn't have to be in carriers, and wouldn't result in their owners being charged a fee. United States Department of Transportation rules changed late in 2020, and airlines soon altered their own policies. As a result, ESA certification doesn't mean you can bring your dog onto an airplane, avoid fees, or keep them outside of a carrier. In other words: airlines now regard ESAs as pet dogs.
Can I bring my service animal onboard?
Yes. Service dogs are allowed on airplanes, and passengers who bring them should not be charged a fee. Just complete all paperwork for your service animal ahead of time and follow the airline's other rules. While we're on the subject: if you see a larger dog onboard, don't assume that it's because someone is "getting away with something." You may be looking at a trained service animal assisting a person who needs it.
My dog is too big for the cabin. Can they fly in cargo?
Some airlines will allow this, but it can be scary and dangerous in the cargo hold. The temperature and air pressure may fluctuate, it's dark, it's loud, and your dog doesn't have you there to reassure them as they face a strange, stressful situation. Some dogs get loose from their crates in transit. In very rare cases, dogs may even die while traveling as cargo. While this option may be the only one if you're relocating to a different country, it's probably best to avoid flying your dog in cargo for non-essential trips.
Should I bring my dog to the vet before flying?
Yes. You'll need a vet to provide documentation certifying that your dog is in good enough health to fly, and they can make some recommendations on how to fly safely and comfortably with your pup.
Does the plane have a bathroom for dogs?
No commercial plane we've heard of has this, so give your dog a chance to pee and poo right before the flight to avoid any midair accidents that may upset your pal and make you one of the less popular human passengers. Be realistic about your dog's bowel and bladder control. If the flight is longer than they can usually go without "going," it's not a good idea to put them through it.

What's the security situation?
Don't pass your dog through the X-ray tunnel; take them out of their bag or kennel and let the agents scan those items alone. You can walk or carry your buddy with you through the metal detector, and an agent will swab your hands to check for explosive residue.
I'm flying to another state, country, or other legal jurisdiction. Can you tell me how the laws about dogs are different there?
There are a lot of different governments, and they have all sorts of laws governing dogs and people—we couldn't possibly list them all in one place. Before you go, look into where your dog is allowed, what kinds of licenses you'll need for them, which type of microchip may be required, and more. You may not be able to bring your dog with you into the cabin on many international flights. If you're crossing a border, keep in mind that Customs can introduce additional complications. An interstate or international trip is another reason to visit a vet before travel–they can help you navigate the health certifications for your destination and make sure you're on top of all the necessary vaccinations, tests, and paperwork.
How will my dog handle all this time in a bag or carrier, the crowds, the noises, and the other stimuli involved in this type of trip?
Every dog is different. Before you leave, do what you can to acclimate yours to their bag or carrier so that they see it as a place where good things happen. This is a similar process to crate training: instead of placing your dog in the bag and zipping it up right away, start by letting them explore the bag, walking in and out on their own. Let them get used to enjoying the bag over the course of weeks. Leave treats and other fun things in there so that they develop positive associations. Dogs may also find it comforting to be in the bag with a blanket or other item that smells like you.
Once your dog is more used to the bag, take them on short journeys in a car around the block or to the store. Remember that your dog will need to be under the seat in front of you during a trip, so you may want to ease them into spending time in the bag at your feet, without your being able to reach in and pet them all the time. Your vet may recommend products to calm your dog in transit if they, or you, suspect travel will make them anxious.
After reading all of this, I am worried. Should I still bring my dog with me?
That's a tough one. If your dog is a happy traveler who will be fine in the cabin with you, sitting in their carrier for a few hours and dozing off—and if you really want or need them where you're going—it may be the right decision to bring them. Of course, don't expect them to be okay going in cold; even the most plane-ready pup should be trained and given a chance to get acclimated to the challenges of a long trip.
If your dog is only allowed to fly as cargo, you're going on a vacation for a week, and you know someone you trust enough to take good care of them until you return, it may be in your buddy's best interest to leave them at home in responsible hands.
If you have an extreme situation—for example, you're permanently moving overseas—carefully weigh the pros and cons to determine what is best for your dog. Unfortunately, there are no perfect options.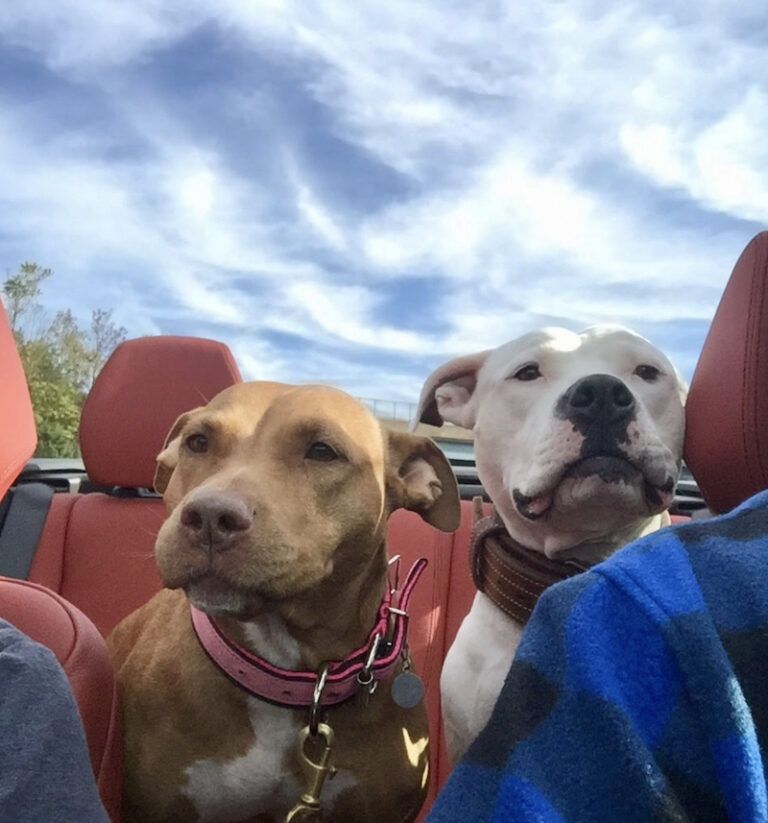 Traveling by rail
If you're traveling by train between states, you'll probably use Amtrak. Here's what you might want to know before getting onboard. (Consult local subway systems and commuter rail lines for their rules, which vary).
Can I bring my dog onto Amtrak?
Maybe. Amtrak charges $26 to bring your dog onboard. The maximum combined weight of dog and carrier allowed is 20 pounds, and you'll usually have to keep your dog and carrier beneath your seat. On the Cascades line, dogs go beneath the seat in front of you—which is nice, because then you can look at each other. Please note that there are various restrictions and exceptions to these general rules—dogs aren't allowed in dining cars, sleeping cars, or first class, for example, nor can they travel on certain lines or any trips that take longer than seven hours. If you're not sure, it's best to call and confirm that your dog is allowed.
My dog is too big to travel in the car on Amtrak. Can I check her as baggage?
Nope. Amtrak doesn't check dogs as baggage or ship them as cargo.
Can I bring my dog onto the train without telling anyone he's coming? He's such a good boy and everyone is always psyched to see him.
He is, but you have to book in advance. Amtrak has a cap on the maximum number of dogs onboard, though this limit does not apply to trained service animals assisting people with disabilities.
I have four dogs!
We are jealous, but you should know that each customer can only bring one pet onto an Amtrak train at once.
Can my dog freely roam the station?
Amtrak requires that dogs remain in their carriers in stations as well as on trains.
Traveling by bus
Can my dog travel on Greyhound, America's largest motorcoach operator?
Even though the company is named after a dog breed, pet dogs are never allowed on Greyhound buses. To Greyhound's credit, their website does acknowledge this sad irony. In accordance with the law, trained service dogs assisting passengers with disabilities are permitted.
How about Bolt Bus?
No, even though the company shares a name with the canine star of an animated Disney film.
Are dogs ever allowed on buses?
You'll have to check with other bus companies, including local transit authorities, to see their rules about dogs. But some places permit them. In New York City, for example, small dogs are allowed to travel on MTA buses as long as they're in carriers and meet various other requirements… including, and we are not embellishing this even a little bit, that they are "carried in a manner which would not annoy other passengers." So hopefully your fellow passengers are not easily annoyed.
Have you ever seen a cute news story about a dog who takes a public bus on his own to get to a dog park?
That's a very specific question, and the answer is yes.
Traveling by car
In some cases, a road trip is the easiest way to bring your dog with you on vacation. If you're interested in giving it a try, read our guide.
What to bring
However you're traveling with your dog, pack all the supplies you'll need. Here are some ideas to get you started:
Carrier:

You'll almost certainly need a bag or kennel for your dog while you're on the move.

Travel crate:

If you're staying at a hotel or AirBnB and your dog has a crate at home, bringing a travel crate—or arranging for a clean, safe crate and bed to be available at your destination— will help them keep some version of their routine. 

Food:

Wherever you go, your dog has to eat. Bring an ample supply of their food, have it waiting for you, know where to buy more near where you're staying, or—in the case of The Farmer's Dog—have it shipped to your destination. Here are some tips on

traveling with The Farmer's Dog food

.

Treats:

Both so your pal has some fun, and so you can keep training and reward them, it's wise to keep these on hand.

Toys:

There may be times on your trip when the sights and sounds are more entertaining to you than your dog; give them something they can enjoy.

ID:

Your dog should wear all their tags, and you should carry records pertaining to your ownership, their vaccination status, and other important information that you might need to prove during your travels.

Photos of your dog: We get the feeling you have these. In case you and your dog get separated while you're traveling, you will definitely want to keep them on hand so you can show others who you're searching for.

Medication: Don't forget any of your dog's medicine, as it may not be convenient to get more of it when you're out of town.
Poop bags:

Your dog's bowels are not on vacation.
Where to stay
Wherever you go, check that dogs are allowed—and that your dog, in particular, will be welcome. This goes for hotels, Airbnbs, and even a friend's house. You'll also want to make sure that the place can accommodate all of your dog's needs. If you have to refrigerate their food, you'll need a refrigerator. There should be enough space for their crate and belongings, if you're using them. There should be a place for them to take a walk safely. And the room should be clear of any hazards you wouldn't allow in your home—inspect for anything poisonous or that poses a choking hazard, for example.
What to do
Your dog should enjoy your trip, too, so pick a location that has something to offer them—attractions where dogs are allowed to go with their people, places to walk, and smells and activities that they might like.
Follow a vacation schedule that's comfortable for your pet. They don't have the context for this trip, and a sudden change of routine could be difficult for them. If your dog takes naps in the middle of the day, work that into your itinerary. Don't wildly increase or decrease their activity level without warning. Your dog needs exercise and rest, along with the other things they got at home.
If you have to, leave your dog in the care of someone who can look after them rather than bringing them into a stressful situation. If that ends up being necessary, they'll be very happy to greet you when you walk back through the door.